Military Cross for shot soldier Rifleman Matthew Wilson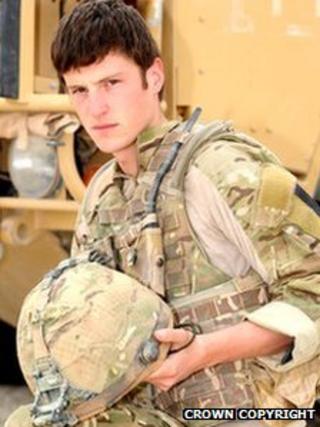 A soldier who was shot in the head as he ran to protect a colleague in Afghanistan has been awarded the Military Cross.
Rifleman Matthew Wilson, 21, from Aberystwyth, a member of 2 Rifles, was honoured for his bravery.
He was knocked unconscious after an enemy bullet struck his helmet.
Serjeant Mathew Perry, 28, of Newport and also from 2 Rifles, won the Queen's Commendation for Valuable Service for setting up an Afghan police force.
They were among soldiers honoured in the armed forces' Operational Awards List.
'Massive crack'
The Military Cross is awarded in recognition of "exemplary gallantry" and is the third highest medal for bravery.
Rifleman Wilson, who is based with 2 Rifles in Northern Ireland, was shot in the head and knocked unconscious for 30 seconds as he ran to protect a wounded colleague.
It happened during what was described as a "deadly game of cat and mouse" with an insurgent sniper during a reconnaissance mission in northern Helmand.
Recalling the attack, he said: "There was a massive crack sound and then my head was whipped sideways.
"One of the other soldiers saw it and said he just saw dust come off the top of my helmet and me fall to the floor, but I don't remember it happening.
"I just remember waking up with a massive headache but I didn't realise what had happened right away.
"It's weird. I didn't just get up and think that I have just been shot in the head. But when I put my finger on my helmet it was really hot where the bullet had hit.
"As a soldier I know the preparations the insurgent would have taken prior to taking that shot, and it would have been just a minor mistake - a slip of the shoulder - that meant he hit the top of my helmet and not my face."
Rifleman Wilson then decided to risk running across an open field to draw the insurgents' attention away from a rescue helicopter.
"You could hear him going for me," he said.
"I was zigzagging, doing everything to avoid the bullets that at first were landing by my feet, and then whizzing past my head. He was getting closer and closer."
The Welsh soldier was then able to escape to a compound where he helped his compatriots launch a counterattack.
Meanwhile, his colleague survived and was treated for a shotgun wound to the leg.
The rifleman's citation said: "Wilson's gallantry, coolness under fire and exemplary determination, having been literally a hair's breadth from death, was nothing short of extraordinary.
"Where many would have crumbled under pressure, shock or fear, Wilson immediately rose to the challenge and took the fight forward to the enemy.
"This young man is a fine example of conspicuous courage that few display in the face of mortal danger."
'Humility'
Meanwhile Serjeant Matthew Perry, also based in Northern Ireland with 2 Rifles, was honoured for his work developing and mentoring a new Afghan local police force in a previously lawless area of Nahr-e Saraj.
During the first three months of his tour one soldier had been killed and five seriously injured.
At the end of Serjeant Perry's stint a school had re-opened with 140 children, and local councillors were able to enter the village without fear.
"We began by training eight locals to create a local police force," said Serjeant Perry, a former pupil at St Julian's School, who was a corporal at the time.
"This included weapons handling, how to deal with local civilians, vehicle checkpoints, protecting themselves in contact with the enemy and basic military tactics.
"We went on one or two patrols a day, interacting with locals and building a rapport. This led to more villagers coming forward with information to help us."
The next step was the local police leading their own patrols, supported by the Afghan National Army and Afghan Uniformed Police.
Serjeant Perry's citation credited him with approaching the Afghans with "professionalism and humility which rapidly gained their trust, respect and friendship".