Wales Ambulance Service fails to meet response times for third month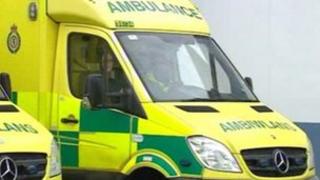 Ambulances have failed to meet targets for emergency calls for the third month running, latest figures show.
The latest monthly figures, for August, show that only 64.2% of responses to immediate life-threatening calls arrived at the scene within eight minutes.
This is below the all-Wales target of 65%.
The Welsh government said there were particular challenges in rural areas.
The target set for individual counties is 60% and a total of seven missed the target in August:
Anglesey
Rhondda Cynon Taf
Flintshire
Gwynedd
Torfaen
Ceredigion
Caerphilly
On Anglesey, only 52.5% of calls to immediately life-threatening incidents arrived within eight minutes - the worst in Wales.
People will die in parts of Wales unless the ambulance service improves, according to one former member of staff.
Trefor Lloyd Hughes, a former ambulance worker on the island with 34 years' experience, said: "I don't think there are enough paramedics working and when shifts need filling they don't fill them.
"I'd say to you that the situation is very serious now because people are having to wait.
"I pity the people in the control room because I understand that they are under a lot of pressure too."
Mr Hughes, who left the service nine months ago, said the problem was that it was not being funded adequately.
The other 15 counties hit the target with the best performers being largely urban areas: Wrexham, Swansea, Newport and Cardiff.
A Welsh government spokesperson said: "While the funding of the Welsh Ambulance Service Trust (Wast) is a matter for local health boards (LHBs), the Welsh government expects it to be resourced adequately to meet its targets.
"Despite receiving around 34,000 calls every month, the majority of patients are reached by an ambulance within target times.
"There are challenges in delivering emergency response services within eight minutes in rural areas, where it is extremely difficult to predict with accuracy where and when ambulances will be required.
"We continue to work closely with Wast and LHBs to ensure there is an equitable level of ambulance service provision across Wales."
In August, there were more than 34,300 emergency calls and, of these, almost 13,500 were category A life-threatening calls.