Chalara dieback: Bid to keep Ash tree disease out of Wales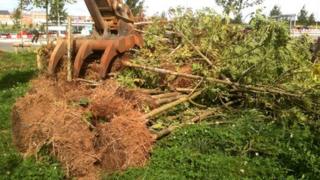 Woodland managers are being urged to check the health of recently planted ash trees as experts attempt to keep a disease out of Wales.
Chalara dieback is described as "a serious disease of ash trees" caused by a fungus called Chalara fraxinea.
Symptoms include leaf loss and crown dieback, and it can lead to the death of the tree.
The Forestry Commission is working with scientists from the Food and Environment Research Agency (Fera).
The disease was recorded for the first time in Leicestershire earlier this year. It has since been found elsewhere in England and in Scotland.
A number of nurseries were also found to have the disease after infected plants had arrived from the The Netherlands, said the Forestry Commission.
John Browne, of Forestry Commission Wales, said: "We are urging those who have planted ash trees in the past five years to check on the health of these trees and to report any suspicious symptoms to us without delay.
"We are working closely with Fera to trace ash planted in Wales in the past five years. Nursery inspections will also look very closely at ash and any infected specimens will be destroyed."
There is 15,348 hectares of ash in Wales which represents 5% of the 304,000 hectares of all woodlands in the country.
The species is important for its timber, firewood, wildlife, biodiversity and landscape benefits.
'Infected trees'
Mr Browne added: "The Chalara fungus has the potential to kill millions of ash trees if it spreads into the natural environment as it has done in Europe.
"In Denmark, for example, it has killed almost all the population of ash trees."
"Now that we know that Chalara fraxinea has entered the nursery trade in Britain, we believe more discoveries of infected trees are possible."