North Wales Police to cut station opening hours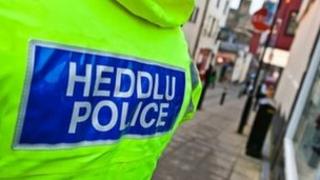 Front counter services at police stations in north Wales are to be cut to save £100,000.
North Wales Police Authority, which manages the force's finances, agreed the move at its meeting on Wednesday.
A phone will be installed at each affected station linked to officers at the force control room in St Asaph, Denbighshire.
Special surgeries will be held for people in rural areas to meet with police.
Chf Insp Nigel Harrison presented a report to the committee saying that just over six visits a day were made to Colwyn Bay police station.
He said that the provision of front counter services needed to be proportionate so staff would be used across the different police stations to manage the opening times.
The move will cut the number of full-time counter assistants from 27 to 21.
CCTV monitoring
Bangor, Rhyl, and Wrexham would be the only stations to provide a daily counter service.
The report said in each of the three police force areas, western, central and eastern, there would be one station open daily and one providing additional service for six days a week.
When a community station is closed there will be a phone which links directly to the force control room.
"We are presently scoping the option to have video phones that will allow for members of public to see an individual in our control room," said the report.
"Additionally, we are mapping which stations are covered by CCTV so that members of the public are not only able to speak to the force control room but can also be monitored, which will add to the feeling of safety."
The shake-up comes as the north Wales force looks to save £16m by 2015 with 162 (10%) fewer officers.
Earlier this summer the chair of the North Wales Police Federation, which represents officers, said planned cuts left little room for anything else after daily policing.