Indeterminate prison sentences: Elfyn Llwyd review call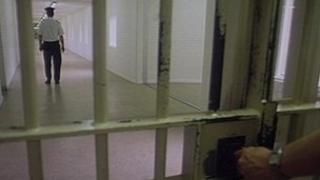 Thousands of prisoners on open-ended sentences who have served longer than their minimum term should have their cases reviewed, says a Welsh MP.
Plaid Cymru MP Elfyn Llwyd said the punishments were effectively "life sentences through the back door".
More than 6,000 prisoners in Wales and England are serving the sentences with some 3,500 past their original tariff.
The UK government has said the sentences will be replaced by a new regime of determinate sentences.
Indeterminate sentences, known as IPPs, were introduced by Labour in 2003, and last year 790 were issued.
They are given to people who have carried out specific sexual or violent offences and offenders are typically given a 'notional' minimum term of two years.
After the minimum term, the Parole Board decides whether the prisoner can be released if they can prove they are no longer a danger to society.
Concerns
Often prisoners are made to carry out educational courses as a condition of their release.
However concerns have been raised about the availability of these courses and in some cases, IPP prisoners are still in jail years after their minimum terms have passed.
Last week the European Court of Human Rights (ECHR) ruled that the sentences breached human rights.
Former Justice Secretary, Ken Clarke, has called them a "stain on the system".
But there are no plans for the abolition to apply retrospectively.
Mr Llwyd, MP for Dwyfor Meirionnydd, a member of the Commons Justice Committee, said that in March 2011 there were 2,229 people still in prison beyond their tariff.
Scrapped
They were, he said, serving on average 244 days each at a cost of £68m a year.
"That's a huge waste of money but also, I think, a gross infringement of their human rights, if they are not allowed to go through the process of parole as was foreseen by their sentencing judge," said Mr Llwyd.
Mr Llwyd said he was pleased the sentences were being scrapped.
But he added: "What they should do now is to look at each and every one of them who are over their tariff, make sure they go through the necessary schemes and then go before a parole board to check they are fit to go back into society."
However David Davies, Conservative MP for Monmouth, drew attention to the human rights of the victims of prisoners on IPPs.
"People get IPPs because they have been convicted of violent or sexual offences," Mr Davies told BBC Radio Wales.
"The human rights of victims of violent or sexual offences are more important than the human rights of those who carry them out."
He added: "It's much much cheaper to keep violent prisoners in prison than to have them out on the streets."
The Ministry for Justice said it was disappointed by the ECHR judgement and was currently considering its grounds to appeal.
A spokesperson said: "Public protection will not be put at risk - the judgement does not find that indeterminate sentences are unlawful, and will not mean prisoners currently serving IPP sentences will have to be released.
"The government has already announced that the complex IPP system will be replaced by a new regime of tough, determinate sentences.
"This will see more dangerous criminals given life sentences, and others spending longer periods in prison, with tough licence conditions on release."