Church collections up despite drop in parishioners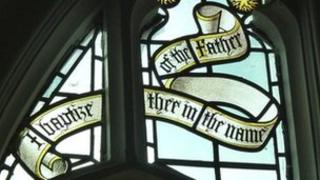 Collections at church services have gone up despite a drop in congregation numbers, the Church in Wales has said.
Figures show people put an average of £8.26 into weekly collections at services last year, a rise of 5.8% from £7.81 in 2010.
Pledges via direct debit and standing orders have also risen taking the total to £14.6m - £462,000 more than in 2010.
Church leaders praised people's generosity in the economic climate over the last year.
They said parishioners had given £2.73m in "loose collections" and £11.87m in "planned giving" which includes direct debits.
This compared with £2.84m and £11.3m respectively in 2010.
"This is a tremendous achievement by church members, especially during a time of severe prolonged economic recession and insecurity," said a spokesperson.
'Diminishing returns'
Meanwhile, statistics show a "continuing decline" of between 2-4% in attendance on Sunday services and major festivals, such as Easter and Christmas.
The Church in Wales membership and finances 2011 report for its parishes also shows the gap between income and total expenditure is widening from £720,000 in 2010 to £1.1m.
Parish finances show a spending bill of £40.5m last year, which is a reduction on the previous year.
The church is currently running roadshows around its parishes giving advice about coping with "final pressures".
A radical shake-up of the Church in Wales was announced earlier this summer.
A review made 50 recommendations, including engaging more with young people.
Bangor Canon Mike Starkey said the statistics showed the church was "doing what we have always done with diminishing returns".
He said: "We have a visionary and radical new report which charts a way forward.
"But while restructuring is a good thing, that alone will not get us to the core of our problem.
"We need to ensure that we are renewing the church, not just re-engineering it."