E. coli outbreak linked to Brecon petting farm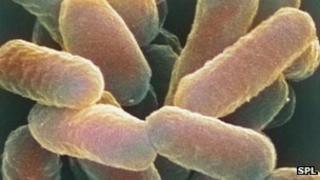 Health officials are investigating an outbreak of E. coli O157 which may be linked to a petting farm in Brecon.
Two children from Ceredigion and Kent who visited Cantref Adventure Farm have been affected by the bug and are recovering at home.
Two family members of one of the infected children have also tested positive.
A farm spokesperson said direct contact between animals and the public at the farm had been stopped as a precaution.
One of the infected family members is believed to have contracted the illness through contact with the child.
Dr Mac Walapu, consultant in communicable disease control at Public Health Wales said: "Both children had visited Cantref Adventure Farm in the days before their illness and we are focusing our investigations on the farm, whose owners have co-operated fully.
"Anyone who has visited the farm since the beginning of August and has symptoms of E. coli O157 should contact their GP as soon as possible.
Serious infection
"The infection can pass from person to person and so it is important that anyone who is ill should observe strict personal hygiene to avoid spreading the infection."
Powys County Council's environmental health department is working with Public Health Wales to investigate the outbreak, along with the environmental health departments in Ceredigion and Kent where the children live.
A spokesperson for the farm said: "Following a request from the Powys environmental health we have stopped all direct contact between animals and the public at the farm as a precautionary measure.
"In the meantime we are undertaking a deep clean of the whole premises and are co-operating fully with the ongoing investigation."
E. coli O157 is a serious infection causing severe diarrhoea, sometimes with blood in it, abdominal cramps and fever.
In children, it can cause kidney failure that can prove fatal.
Public Health Wales say it is not uncommon for outbreaks of E. coli O157 to be associated with children having contact with farm animals.
People with health concerns are advised to contact their GP or NHS Direct Wales on 0845 46 47.