Puppy farm protester who slept in 'kennel' ends experiment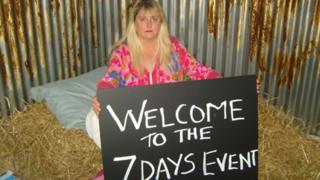 A campaigner who has been living in a shed for a week to highlight animal welfare standards issues has ended her protest.
Linda Goodman from Cariad, a coalition of rescue organisations and campaign groups across Wales, wanted to highlight conditions in puppy farms.
The 50-year-old lived and slept in the "kennel" at an undisclosed farm location in Carmarthenshire.
Ms Goodman's campaign was streamed live online.
"I cannot judge how it went yet but for me it was pretty much like hell," she told BBC Wales.
"The first day was ok because of the adrenalin but the first night was awful because all the insects came out and started biting me.
"It was frightening to be by myself."
Ms Goodman, from Ceredigion, took a supply of bottled water with her into the shed and was given a meal once a day.
The Welsh government is preparing to introduce new rules aimed at tackling bad breeding practices in puppy farms.
Veronica Lambert, a member of Cariad said: "Licensed breeders are no different to non-licensed breeders.
"Licensed conditions are laid down in law but they never enforce it.
"It's very good what the Welsh government is planning to do but they are not putting any money into enforcement.
"You will have the same animal welfare officers trying to do the same job and implement the new rules."
Spot-checks
She said Ms Goodman had been vomiting and received a number of bites while staying in the shed - in Carmarthenshire - highlighting claims that puppies suffer the same living in similar conditions.
But Tessa Marchand, who runs licensed kennels in Pembrokeshire, says the problems lie with breeders who do not have a licence and not those with licences.
She says no more than four litters should take place a year and local authorities carry out spot-checks on kennels.
"The council has done an awful lot of work over the last four years to improve standards in licensed kennels," she added. "The issue is stopping people breeding puppies without a licence.
"It's about stopping pet shops that are buying in puppies and stopping the sale of puppies that can't be checked.
"If all puppies had to be micro-chipped by the breeder and if puppies are not allowed to be sold without being micro-chipped, that would put the nail in the coffin."
The Welsh government has finished its consultation on tightening the rules over breeding, including compulsory micro-chipping.
In response to funding, it said local councils will be responsible for enforcing regulations and they will be able to charge to consider a licence application or grant or renewal of a licence.