Alfred Russel Wallace statue at Natural History Museum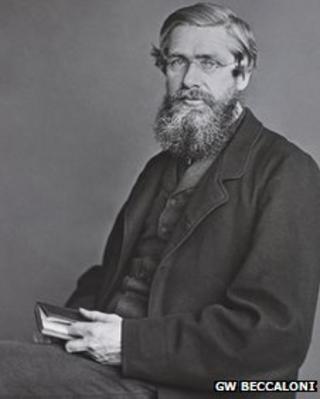 A Welsh scientist who proposed the theory of evolution by natural selection with Charles Darwin is to have a statue in his honour 100 years after his death.
A memorial fund for Alfred Russel Wallace aims to raise £50,000 for a life-sized bronze statue.
It will be given to the Natural History Museum in London, where there is already a statue of Darwin.
Wallace was celebrated during his life but was later overshadowed by Darwin.
The theory of evolution by natural selection states the "fittest" animals or plants are more likely to survive and reproduce.
The idea was first published in a scientific article by both scientists, printed in 1858, although it is often attributed solely to Darwin, who published On the Origin of Species a year later.
Monmouthshire-born Wallace, considered one of the greatest scientists of the 19th Century, did receive recognition for his work, and when he died aged 90 in 1913, fundraising began for a statue at the Natural History Museum.
However, the outbreak of World War I put paid to the project.
Comedian Bill Bailey, a long-time admirer of the scientist and patron of the Wallace Memorial Fund which has commissioned the statue, said: "Wallace was a maverick genius who deserves much greater recognition for his brilliant discoveries.
"The statue will be seen by many of the 4.5m people who visit the museum each year and it will help raise awareness of this extraordinary man."
It would be sculpted by Anthony Smith, a zoology graduate-turned sculptor, who in 2009 created a statue of Darwin for Cambridge University.
The memorial fund has already raised £10,000 but the rest needs to be raised in time for the unveiling in November next year.
The Natural History Museum is planning a big celebration of Wallace's life and scientific legacy called Wallace100 which will be launched next January.
Many museums and organisations worldwide are also planning events to mark the anniversary of Wallace's death.
There will be conferences in London, New York, Mexico, Gibraltar and Malaysia; museum exhibitions in Wales, Oxford, the Netherlands, Singapore and Australia; several books; and at least one TV documentary.