Local TV: Made in Cardiff to be capital's new channel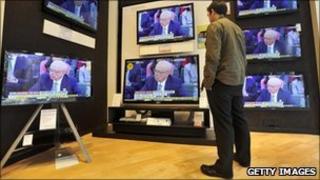 News bulletins every hour and programmes featuring local music, events and arts will be broadcast on a new TV station for Cardiff.
Made TV Ltd has been unveiled as the winning bidder to run the new local station, called Made in Cardiff.
Media regulator Ofcom said the channel could be on air next year.
The UK government has said there is demand for more local programmes than those offered by the BBC or commercial television.
Bryn Roberts, station manager at Made in Cardiff, said it would broadcast two half hour news programmes a day, along with a bulletin on the hour every hour.
There will also be an additional hour of local programming at peak time featuring local events, arts, music, restaurants and different cultures.
He said that the station would broadcast to a potential audience of 800,000 people, as far north as Merthyr Tydfil, across to Bridgend and east to Newport.
However, it would focus on Cardiff.
Mr Roberts said he believed there was an appetite for local TV stations.
"People are interested in what's happening down the street rather than what's happening 200 miles away," he added.
However, some critics question the need for more channels and whether small-scale stations would be commercially viable.
Cardiff and Swansea were named in December among 21 "pioneer" locations across the UK identified as having significant levels of interest from potential operators and audiences.
However, no applications were received for Swansea, prompting Labour's Swansea West MP Geraint Davies to brand the process a "farce".
Mr Davies said Swansea had not been given a chance.
Local content
The new licences, awarded for up to 12 years, are for digital terrestrial TV (DTT).
The other bidder for the Welsh capital licence was Cardiff Local TV.
The Made TV group has also been awarded a licence for Bristol.
The company's chief executive Jamie Conway said when unveiling its intentions for Cardiff last month that it would concentrate on local content and local business.
"This is not another ITV - all of our stations will be locally run with local news editors and producers and local editorial control," he said.
Local coverage
Positions are expected to be created for journalists, producers, sales staff and technicians.
Mr Roberts said: "Cardiff has long been neglected by not having proper local coverage and we're looking forward to creating content by the people of Cardiff for the people of Cardiff.
"We will provide news, sport, current affairs, cultural and entertainment programmes that go to the heart of this great city."
He said the channel would receive £150,000 from the BBC in its first year, with the funding decreasing in the second and third years.
"We're confident that come year three we will be able to stand on our own feet," he added.
Partners include Cardiff Blues rugby, Glamorgan cricket club and Cardiff University.