Julia Gillard: Australian PM's tribute to Welsh father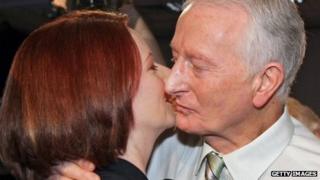 Australian Prime Minister Julia Gillard has paid tribute to her Welsh father in the House of Representatives quoting Dylan Thomas to describe his spirit.
John Gillard died on 8 September, aged 83, following a long illness.
Ms Gillard was born in the south Wales seaside town of Barry. The family emigrated in 1966 when she was four.
"My father was a very proud Australian but he tried to instil in my sister and I a sense of our Welsh origins," she said.
In emotional speech to the House, she added: "This would take many forms but one of the least favourite forms, I'd have to say, was to make us listen to Richard Burton, a Welshman, reading the poems of Dylan Thomas, a Welshman.
"I grew up as a result listening to Dylan Thomas saying to his father to "rage and rage against the dying of the light - to not go too gentle into the night"...
"The last thing my father taught me was that in the life of a man, there is a moment to go gentle into that good night. And so it was."
'Humble beginnings'
Ms Gillard cut short her trip to the Asia-Pacific Economic Co-operation leaders summit in Vladivostok, Russia, to be with her family after her father's death in Adelaide.
She said in a statement her father transcended his "humble beginnings" in a mining village and taught her to "love learning".
Ms Gillard returned from bereavement leave on Thursday to attend to the first of three Australian soldier funerals, but Wednesday marked her return to parliamentary duties.
Attending military funerals over the past week, Ms Gillard said she had been "particularly overwhelmed" that people who had lost someone so young would also think of her father.
"My father died at 83, so it is a different thing from a man dying in his 20s, or 30s, or 40s," said Ms Gillard.
She told the House he lived a "very full life and a very happy life" that started in Cwmgwrach, in the Neath Valley, south Wales.
She said his early days was growing up in a state of hardship and left school at the age of 14 and eventually became a police officer in Barry where he met wife Moira, also a police offcer.
At the time of Mr Gillard's death, the couple had been married for almost 55 years.
After moving to Adelaide in 1966, he studied again and became a psychiatric nurse.
Ms Gillard added: "In truth, his life's work was the nurture of his family.
"It's certainly true that I would not be standing here if my father hadn't brought from the Welsh valleys, a deep sense of attachment to Labor values, a profound belief in the benefits of unionism and also a profound belief in the life changing nature of education."