Anthrax vaccine bid for Nato by Cardiff University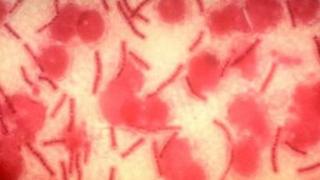 Scientists from Cardiff University are leading a Nato project to try to develop a vaccine for anthrax to help in the fight against bioterrorism.
The work is in response to a growing concern about the misuse of the life-threatening bacterial infection.
It could also help parts of central Asia where anthrax infection in humans and animals is a problem.
Scientists hope to develop a more effective vaccine than the one that is currently available.
Prof Les Baillie, from Cardiff University's school of pharmacy and pharmaceutical sciences, is leading researchers from the USA, Turkey and the former Soviet republic of Georgia.
Efforts to develop more effective vaccines have so far been hampered by the fact researchers have been unable to test them with human trials.
Immunise people
But the Cardiff university team is now hoping to work with people in Turkey and Georgia, where infection is a problem.
Anthrax is most commonly found in hoofed animals such as cattle, sheep and goats, but can infect humans when they inhale or ingest anthrax spores.
Someone who is infected can have initial flu-like symptoms but, if left untreated, the disease can kill in a matter of a days.
Prof Baillie, who previously worked on anthrax vaccine programmes with the US Army and the Ministry of Defence, said the majority of the world's population was susceptible to infection with Bacillus anthracis, the bacterium which causes anthrax.
He said concern about the potential to use it as a biological weapon had been growing since 2001, when letters containing anthrax spores were mailed to several news media offices and two senators in the US, killing five people and infecting 17 others.
"The US postal attacks in 2001 highlighted the vulnerability of civilian populations and brought home the need to develop effective, rapid, robust medical countermeasures to combat the threat posed by terrorist use of this organism," added Prof Baillie.
He said there was no way scientists could ethically expose people to the disease.
"So you look for a part of the world where it's a problem. Then you immunise people [using the vaccine] and see if the incidents of anthrax go down," he said.
As part of the project, a research centre in Georgia will be set up which will support infectious disease research and help improve the lives of people in the region.
The UK has seen anthrax outbreaks in recent years among drug users who had taken contaminated heroin.
Early treatment with antibiotics is essential if a person is to recover, and the current vaccine is offered to members of the armed forces and those likely to come into contact with anthrax.