Archbishop Desmond Tutu visit to back Wales for Africa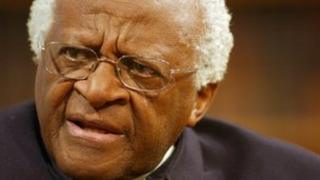 Nobel Peace Prize winner Archbishop Desmond Tutu is to visit Wales next month to recognise the achievements of a programme helping nations in Africa.
The leading anti-apartheid campaigner was last in Wales 2009.
He will examine the Welsh government's Wales for Africa programme, First Minister Carwyn Jones announced.
It helps individuals, groups and communities across Wales create links and get involved in projects with countries in sub-Saharan Africa.
Speaking at an international development summit, Mr Jones said Archbishop Tutu would visit Wales in late October to see for himself the work of the Wales for Africa programme, which was set up in 2006.
The Welsh government said the initiative had become a beacon for Welsh efforts to help deliver the United Nations' millennium development goals to halve global poverty by 2015.
Mr Jones said: "In the space of six years, and with a very modest budget, Wales for Africa has linked hundreds of Welsh communities with hundreds of African communities, influenced the school curriculum, supported Wales to become the world's first fair trade nation and delivered a world leading climate change project in Uganda with the UN - to name just a few achievements".
In 2009 Archbishop Tutu was awarded an honorary doctorate by Bangor University.
In the same year he was a keynote speaker at the Hay Literary Festival in Powys, while in April 1998 he visited Cardiff to receive an honorary degree.