GCSE English: WJEC examiners regrade exam results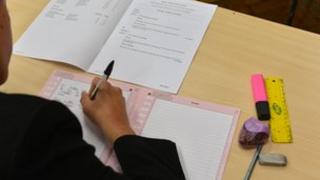 Staff at the WJEC examining board are working over the weekend to regrade hundreds of pupils' GCSE English Language exam results in Wales.
The Welsh government, which regulates exams, said it expects the work to be complete on Tuesday.
Education Minister Leighton Andrews published a report last week which concluded the way grade boundaries had been set was "unfair to candidates".
It came after pupils did worse than predicted when results were published.
Staff at the WJEC are doing extra hours this weekend to get the work done.
The focus is on the C to D grade boundary. Lower grades could also be affected, but the process will not result in anyone being worse off than before.
English subject specialists, experts in research and statistics, and IT systems operators will be involved.
On Friday, Welsh government officials met Ofqual, the exam regulator in England, to discuss the longer term implications of the move.
Earlier in the week Mr Andrews said UK Education Secretary Michael Gove was undermining parents' confidence in GCSEs, accusing him of trying to spark a "political spat".
'Best interests'
The two are at loggerheads in a row over whether to regrade GCSE English exams.
Mr Gove has branded his Welsh counterpart "irresponsible" for directing the WJEC exam board to regrade Welsh students.
The Welsh government is the exam regulator in Wales, while in England the job is done by Ofqual which has said it does not see the need for a regrade.
Mr Andrews - who has the support of teaching unions - told the WJEC to regrade English Language GCSEs after a report by his officials found the way grade boundaries had been set was "unjustifiable and almost certainly unfair to candidates".
He said he had acted "on the basis of proper evidence and advice, to ensure that the best interests of Welsh pupils are protected".
The report was commissioned after complaints of pupils doing worse than predicted when this summer's GCSE results were published.
The proportion of pupils who got a grade C for English Language was down 3.9% on last year.
The Welsh government says it now expects several hundred pupils to receive improved grades.
Meanwhile, the WJEC has said it had complied with a requirement from exams regulators in England and Wales to make the boundary between grades C and D "more severe".
As well as 34,000 pupils in Wales who sat the board's disputed exam, it was also taken by 84,000 pupils in England.