Welsh university fees capped at £9,000 for three years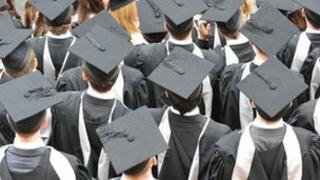 University fees in Wales will be capped at £9,000 for the next three years, it has been announced.
The option to charge students the maximum fee for their courses has been introduced this month across all universities in the UK.
Wales' institutions are charging £9,000, but many will lower fees from 2013/14.
New and existing students will also receive an above inflation rise in support for living costs from 2013.
The UK government has so far announced only that it will keep the maximum figure in English universities at £9,000 for 2013/14.
The Welsh government will help pay the higher charges for Welsh students, wherever they choose to study.
It means students will pay about £3,500 with the Welsh government paying the rest of the fee through a grant.
"In November 2010, I announced new arrangements for tuition fees and student support in Wales," said Education Minister Leighton Andrews.
"Students ordinarily resident in Wales are eligible for a non-means tested tuition fee grant to cover the additional costs of fees wherever in the UK they choose to study."
'Commitment'
Mr Andrews said the Welsh government's commitment was that no undergraduate from Wales will pay higher fees in real terms than if they had been students in the last academic year, regardless of where they study.
While the maximum tuition fee will be frozen at £9,000 for three years, five Welsh universities intend to drop charges to £7,500 or below for the 2013-14 academic year.
It follows a decision by the Higher Education Funding Council for Wales (Hefcw) to change the way it allocates student places.
The University of Glamorgan, Trinity St David, Cardiff Metropolitan, Newport and Swansea Metropolitan will cut fees.
They could still raise them again by 2015/16, but Aberystwyth, Cardiff, Swansea and Bangor universities have opted not to drop their fees from the maximum £9,000 and cannot rise their fees any further.