Gareth Roberts: Wales Rally GB trophy named after driver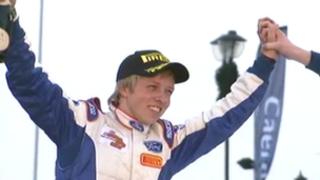 The family of a rising rally star, killed earlier this year, say they are honoured a Wales Rally GB trophy has been re-named in his memory.
Gareth Roberts, 24, from Carmarthen, died in a rally in Sicily in June.
Wales Rally GB's Croeso Trophy - awarded to the highest-placed all Welsh crew - will now be known as "The Croeso Trophy in memory of Gareth Roberts".
The ceremonial start of this year's rally is be held in Llandudno, Conwy, later.
Roberts was co-driver in a Peugeot 207 being driven by Irish team-mate Craig Breen - who was unhurt - when the crash happened at Cefalu on Sicility during the Targa Florio event.
Organisers of Wales Rally GB - the British round of the FIA World Rally Championship - described him as a "rising star".
Roberts won the Croeso Trophy in 2008 with his driving partner Gwyndaf Evans, and Wales Rally GB said it was being re-named "in recognition of the respect that Gareth held within the motorsport community".
Andrew Coe, Wales Rally GB chief executive, said: "Gareth was a skilled co-driver and a rapidly rising star in the world of international rallying.
"He was always willing to lend a hand and get stuck in, something that was particularly evident from working with him to promote Wales Rally GB over the past few years.
"There is always a special feeling when competing on home turf and it was obvious how much winning in Wales meant to him.
"It was a very easy decision to rename the trophy that Gareth was so delighted to win back in 2008."
Roberts won last year's World Rally Championship Academy event, alongside Breen.
'Honoured'
He celebrated the win in Cardiff, snatching the victory on the last day of the six-round event when the championship came to Wales as part of the Wales Rally GB.
His family said: "We're really honoured to have the award renamed after Gareth.
"He won his world title last year in Wales and was always proud of his Welsh roots.
"He would have been really proud to be part of any scheme promoting young Welsh rallying talent in the WRC."
Following an opening ceremony in Llandudno, the 2012 rally will head through mid Wales before finishing in Cardiff.