Microbreweries 'the way forward' after 11 open in year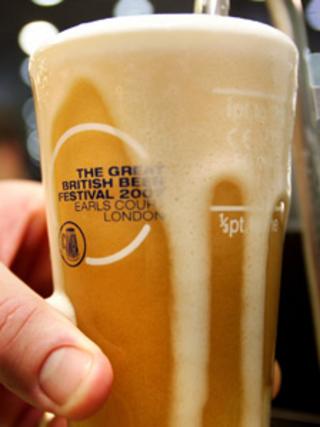 The number of microbreweries in Wales is set to carry on rising as the pub industry deals with continued closures, says the Campaign for Real Ale (Camra).
Figures from the real ale lobby group show 11 breweries opened in Wales over 12 months, with six of them in pubs.
Wales spokesman Ian Saunders said: "The interest in real ale is there and people are also very mindful of purchasing local products."
Last year a report showed 375 pubs closed in Wales from 2007-10.
Launching the 40th edition of its Good Beer Guide, Camra revealed that Wales now boasts 52 breweries, helping to push the UK total to 1,009, the highest number for 70 years.
Wales regional director Mr Saunders said the increase in people's loyalty to locally produced products such as food was starting to spill over in to what they drink, bringing an opportunity for small, local, brewers.
He said: "It is a growing trend. I'm hoping that its the way forward. Although alcohol sales in pubs are declining, the real ale percentage of that is on the increase.
"When I first moved to Wales, there were very local breweries and a lot of people I knew drank no real ale at all.
"Since local breweries have started, people have stayed loyal to them, because they are Welsh.
"Because of the interest in them, that has encouraged a few people to start their own microbreweries.
"Some free houses have decided to do their own beer. That's even more local."
Pubs sold off by pub chains against a background of continued closures offered opportunities for entrepreneurial landlords keen to offer a range of beers different from those of the big breweries, he said.
He said: "If that is bought by a private individual, they are free to do what they want."
However, lone microbreweries were unlikely to have the money to set themselves up in a pub from the outset, he said.
He praised four rival breweries in north Wales who have joined forces to help reopen a pub dating back to the 1920s in Conwy.
The Albion, which opened in January, is the idea of London-based Welsh businessman Arthur Ellis who bought the building last year and invited four microbreweries to sell their beers alongside each other.
The new guide also features the campaign's UK pub of the year, the Bridge End Inn at Ruabon near Wrexham.
The small community pub, which reopened three years ago, became the first Welsh winner of the award.
In July last year, figures released by the Save Our Pubs and Clubs campaign, a coalition of groups that want the smoking ban to be amended, claimed 80 of the 375 pub closures in Wales from 2007-2010 were in the north.