Church in Wales governing body vote on shake-up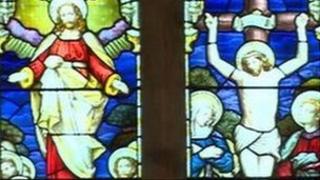 Radical plans to reform and modernise the Church in Wales are being discussed later by its governing body.
A report in July recommended forming "super size" parishes run by vicars and lay people and holding non-traditional services on days other than Sunday.
A two-day meeting in Lampeter gives members the first opportunity to discuss the review findings.
They will be asked to vote on the report and commend it to the church for further study and action.
However, there has already been mixed reaction to the proposals with some clergymen questioning whether "people in the church were ready" for the shake-up by three leading Anglicans.
Judge Phillip Price, chair of the standing committee of the governing body of the Church in Wales, said change was needed because church traditions have proved to be "less attractive to the present generation than it was in the past".
"Recognising that and having a new perspective on that enables us to redirect our efforts and we hope that's what will come out of this exciting review," he told BBC Radio Wales.
He thinks the church needs to do more to attract younger people and to provide other opportunities to worship such as on days other than Sundays.
"If people want to go and play football on Sunday mornings then we have services and draw them in on Wednesday evenings or whenever it is.
'Dire seriousness'
"The point is we look at when we can reach them rather than them to come to us," he said.
The governing body, made up of over 140 church members, meets twice a year to discuss reports and make decisions.
The report published in July said the situation was one of "dire seriousness".
It followed a year-long review commissioned by the Church in Wales in a bid to restructure and reinvent itself ahead of its centenary in 2020.
The review group, chaired by the former Bishop of Oxford, Lord Harries of Pentregarth, assessed the church's financial resources and examined its organisational structure.
It also looked into how the church could adapt to cope with the decline in clergy, falling congregations, a surplus number of churches and a large repair bill for its buildings.
The review's findings have been compiled in a report which makes 50 recommendations, including engaging more with young people by working more closely with all schools, not just church schools, along with using social media and training people in the church who can relate to them.
A keynote speech is due to be given by the Archbishop of Wales on Friday along with a report from the bishops on possible options for a future Bill to ordain women as bishops.