Ann Jones, Vale of Clwyd AM, in sprinkler law cost row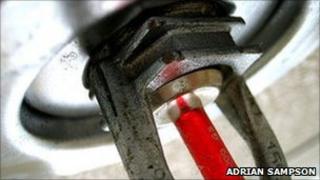 An assembly member has accused a home builders body of "dangerously" undermining the drive for compulsory fire sprinklers in new Welsh homes.
Vale of Clwyd AM Ann Jones said claims by the Home Builders Federation (HBF) that the move would cost £5,000 per home were "reckless".
The Welsh government said independent analysis estimated it at £3,075 per house.
The HBF said it took safety seriously and was keen for effective legislation.
But Ms Jones claimed it was "waging an aggressive opposition campaign" against safety legislation.
Mrs Jones was a driving force behind the Welsh law to run from 2013.
Many in the building industry, including Welsh house builder Redrow, have been critical of the legislation on the basis of cost.
Mrs Jones has dismissed such claims as "reckless" in the past.
And her latest comments come in response to the HBF, which represents companies responsible for the building of around 80% of all new homes in England and Wales.
The HBF claims Welsh government officials agreed that the £5,000 figure is a correct estimate of the likely additional cost to the construction of a new home.
But Mrs Jones has maintained that an estimate of £5,000 is inaccurate.
And she has said First Minister Carwyn Jones has assured her that he and his government do not recognise the figure as an accurate estimate.
'Dangerously inaccurate'
"I hope the First Minister's personal assurances, will encourage those who maliciously pedal the myths around the costs of sprinklers to show humility as we work to implement a ground-breaking law designed to save lives, property and money," said Mrs Jones.
She also attacked the HBF for using what she has called "a dangerously inaccurate figure which cynically misrepresents the true cost of sprinklers."
The HBF said it had published a briefing document "in response to a letter sent to individuals and organisations in the construction and home building sector from Ann Jones AM on the 9th July 2012 which outlined concerns with the HBF's evidence on the cost and implications of the fire suppression systems legislation".
'Available evidence'
"The £5,000 per home cost estimate was arrived at through consideration of a wide variety of evidence from various sources," said Richard Price from the Home Builders Federation.
"Home builders in Wales are fully committed to delivering all the requirements the Welsh government ultimately decides to set for the construction of new homes.
"Therefore, the cost of this particular requirement, whatever that might be, will need to be considered carefully by the Welsh government to ensure it can be delivered along with other government priorities, such as the delivery of affordable housing and the aspiration for more energy efficient homes."
Mr Price said that various pieces of available evidence had been considered, including the potential costs of installing fire suppression systems in a range of different house types.
The potential costs of installation had also been discussed with industry experts.
In the HBF briefing document he said: "There was an agreement that on average, the likely additional cost of installing fire suppression systems in newly built homes would be roughly £5,000 per home."
Mr Price added that the HBF wished to make it clear that its members took the issue of fire safety "very seriously".
"We are keen to work with the Welsh government and Mrs Jones AM, in order to ensure any legislation that is implemented operates effectively and efficiently for all concerned," he said.
Regulations requiring the installation of fire sprinkler systems in new homes built in Wales will come into force in September 2013.
The Welsh government said it has published an independent cost benefit analysis of the proposed fire sprinklers regulations.
"This estimated the additional cost of installing and maintaining fire sprinklers, based on the relevant British Standard, to be £3,075 per house," said a spokesman.
"We will shortly be convening a working group to advise us as we develop these regulations, and we look forward to working constructively with the house building industry. "