Welsh youngsters on long-term dole up fourfold in a year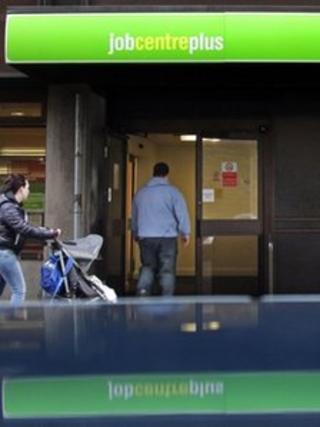 Long-term youth unemployment has increased almost fourfold in a year, official figures show.
The number of 18 to 24-year-olds in Wales claiming jobseeker's allowance for more than a year stood at 4,455 in August - up from 1,130 in August 2011.
The Office for National Statistics said the number of people out of work in Wales rose 1,000 between May and July, taking the jobless total to 132,000.
Across the UK, unemployment fell by 7,000 to 2.59 million in the quarter.
Labour pounced on a sharp rise in the claimant count for young people.
Shadow Welsh secretary Owen Smith called on new Welsh Secretary David Jones to deliver on a promise that the economy would be his top priority.
He said: "I sincerely hope this means we'll see a change in attitude from the Wales Office, which - over the last two years - has shown nothing but unwavering support for George Osborne's failing economic policies and tax cuts for millionaires."
Mr Jones said he was committed to working towards securing a new generation nuclear power station at Wylfa on Anglesey.
"This month's figures for long-term youth unemployment illustrate the need for the UK and Welsh governments to co-ordinate their economic efforts more closely," he said.
He welcomed a modest improvement in some figures, pointing to an increase of 33,000 in the number of people in work since the same time last year.
The number of people of all ages claiming jobseeker's allowance fell by 200 during August to 79,300.
Quarterly figures from the ONS put the unemployment rate at 8.9% for three months to July.
The number of unemployed men continued to fall and was down by 2,000 on the previous three months, while female unemployment rose by 3,000.
Compared to the same quarter last year, the number of men out of work is down 11,000, but for women it is up 20,000.
The figures published on Wednesday contrast with last month's update from the ONS which said unemployment fell 7,000 between April and June.
There have been mixed reports about the state state of the job market
Recruitment firm Manpower says its latest regular survey of employers found more of them are optimistic about hiring new staff in Wales than at at time since 2007.
But the Federation of Small Businesses said its own research suggested employment intentions were sliding - a trend it expected to continue.
The Conservatives business spokesman in the assembly Nick Ramsay said the economy was "fragile" and called on the Welsh and UK governments to work together.
"Co-operation between both governments is essential to seize opportunities, attract investment and create jobs," he said.