GCSE English: Regrades in Wales prompt Ofqual talks call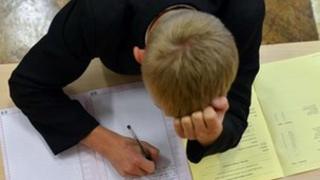 The exam regulator for England has called for talks in the row over GCSE results after a government decision to regrade papers in Wales.
Hundreds of pupils in Wales could see their GCSE English Language results improve following the intervention by education minister Leighton Andrews.
Ofqual said it did not see the need for a regrade and has written to the Welsh government seeking talks on the issue.
UK education secretary Michael Gove is facing calls to agree to regrading.
Mr Andrews said pupils had been the victims of an "injustice" after receiving lower grades than expected, and ordered exam board WJEC to take a fresh look at the papers.
But as well as 34,000 pupils in Wales who took the disputed GCSE English exam with the WJEC, 84,000 in England also took the exam.
There are concerns pupils could end up with a lower grade for exactly the same work as their counterparts in Wales.
The WJEC said it wanted the Welsh government to reach a common agreement with Ofqual, saying it had been put in a "difficult and unexpected position".
Ofqual confirmed it was seeking talks with the Welsh government about the implications of Mr Andrews' decision.
A spokesperson said: "We have written to the Welsh government confirming that our position is we do not agree there is a need for a re-grade and we are seeking talks to discuss the implications of the direction that has been issued."
The percentage of pupils from Wales gaining an A* to C in GCSE English language fell from 61.3% in 2011 to 57.4% this year.
Exam boards told reporters that grade boundaries had been changed between January and June after regulators urged them to keep a check on "grade inflation".
'Significant shift'
The Welsh government published a report by Mr Andrews' officials on Monday which said a drop in the number of students getting C grades was "unjustifiable and almost certainly unfair".
Speaking on BBC TV's Newsnight on Tuesday, Mr Andrews said the real issue was the consistency of "comparable outcomes".
"The idea is if you change exam specifications in a year there should not be a significant shift in the overall outcomes," he said.
"We don't believe that this year's results have seen that happen in Wales."
Mr Andrews ordered the WJEC to regrade the exams after a previous request to the exam board was said to put it in a difficult and unexpected position.
But the WJEC had said it had complied with a requirement from exams regulators in England and Wales to make the boundary between grades C and D "more severe".
Plaid Cymru picked up on this revelation, claiming Mr Andrews was simply "correcting the mistake he himself has made as a regulator".
Ofqual chair Amanda Spielman claimed Mr Andrews demanded papers be regraded because of the "political difficulty" of students in Wales under-performing their counterparts in England.
Mr Andrews dismissed Ms Spielman's comments as "inappropriate", saying she had been a "political appointment".
Conservative education spokesperson Angela Burns called for exams to be regulated at arm's length from the Welsh government.
She accused the Welsh government of "posturing" and said that "education is failing in Wales".
"If I was education minister tomorrow, and I would love to do that job I may add, I would actually get an independent assessor to come in and have a look at this," she said.
She said there was "a clear divergence" in performance between English and Welsh candidates which was difficult for the Welsh to accept politically.
Owen Hathway, Wales policy officer at the National Union of Teachers, told BBC Radio Wales on Wednesday that they welcomed the prospect of regrading in Wales.
He dismissed the suggestion that the Welsh government could not act as an impartial regulator.
"In terms of political interference you've got a different system in England where you have a so-called independent regulator in Ofqual," he said.
"But the political interference we've seen over the border there doesn't fill me with confidence in their system."
Mr Hathway said he was also concerned that the row over regrading could lead to the breakdown of the common exam system for England, Wales and Northern Ireland.
"The announcement that Michael Gove has made through the media on GCSEs and A levels and the future of them suggests that divergence is already happening.
"We would want to see a system that is aligned with the English system but it's becoming increasingly difficult to see that panning out."
Writing on the New Statesman's website, Mr Andrews attacked UK Education Secretary Michael Gove and said the UK was now heading towards four separate exams systems.
Appearing before MPs on Wednesday, Mr Gove attacked his Welsh counterpart as "irresponsible and mistaken" for ordering disputed GCSEs to be regraded.
He has resisted, saying it was not for politicians to intervene.
The Association of School and College Leaders (ASCL) raised concerns about the numbers of schools which had seen their overall GCSE results drop, with those failing to meet the target at risk of being taken over and turned into an academy.
ASCL general secretary Brian Lightman said the grading fiasco "could cause enormous reputational damage to these schools, and even cost school leaders and teachers in these schools their jobs, which would be a gross injustice in view of the way these results have come out".