Melissa Merrony 'adult cot death' prompts screening call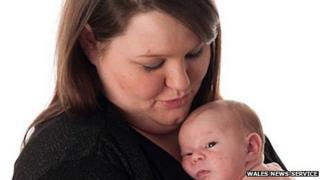 The death of a Pembrokeshire woman from the "adult version of cot death" shows why more young people should be checked for heart defects, says a charity.
Melissa Merrony, 20, of Neyland, died after collapsing at home, nine weeks after giving birth to her son, Keegan.
Her inquest heard she was one of 800 people under 35 every year in the UK who die suddenly of heart conditions.
Alison Cox, of Cardiac Risk in the Young (Cry) said the death "reminds us of the need for more screening."
Ms Merrony's inquest last month heard the 20-year-old single mother died from sudden arrhythmic death syndrome or SADS.
Her mother, Wendy Moody, who is now bringing up 19-month-old Keegan herself, has spoken of the family's tragedy.
She said: "It's so tragic. It's on every mum's mind, her baby dying suddenly from cot death and there are monitors and all sorts to prevent it.
"But you never imagine the mother dying. But Melissa died of the adult version of cot death.
"I just can't believe she has gone. I miss her every single day so much. She was only 20-years-old but she was such a natural mother.
"She adored Keegan so much but now she will never see him grow up and that breaks my heart."
A narrative verdict that Ms Merrony died from "cardiac arrest caused by sudden unexplained arrhythmic death syndrome," was recorded by Pembrokeshire coroner Mark Layton.
SADS is an umbrella term for around a dozen conditions that kills 800 people under 35 a year in the UK, the inquest heard.
Victims often appear to be in good health and show few symptoms but have anomalies in electrical workings of the heart.
Mrs Moody, from Milford Haven, said her grandson and other family members have been since tested for the condition and given the all-clear.
Cry, which campaigns to raise awareness of rare heart conditions in young people, has screened more than 370 people at towns and sporting events in Wales this year.
Ms Cox, who is also chief executive of Cry, said a death like Ms Merrony's often prompted other people in the community to be tested.
'Treatable'
She said: "You can never have too much awareness.
"People should understand that these conditions, if they are identified, are treatable.
"A relative of someone who has died has a 50% chance of having the same condition."
Cry holds its next screenings at the University of Glamorgan in Pontypridd at the end of this month.