GCSE regrade: WJEC seeks 'urgent' talks with education minister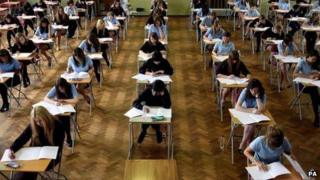 The WJEC examining board is seeking further urgent talks over the Welsh education minister's demand GCSE English papers be regraded.
Leighton Andrews said a review had persuaded him hundreds of pupils had been the victims of an "injustice", a decision welcomed by teaching unions.
It follows a row about students being awarded lower grades than expected.
England's exams regulator Ofqual has refused to order exam boards to regrade this summer's English GCSEs.
Mr Andrews told BBC Wales he will give WJEC a "reasonable time" to comply but will force the issue if required.
UK Education Secretary Michael Gove has refused to intervene in England.
But Wales' education minister has taken a different course of action by asking the WJEC exam board to regrade papers.
If it refuses his request he can order the board to act.
The WJEC sets exams on both sides of the border, with 34,000 taking English language GCSE in Wales this summer and 84,000 in England.
The board said Ofqual and the Welsh government work jointly on a range of regulatory matters over exams.
"For example, in 2012 these regulators jointly required WJEC to make our GCSE English language awards more severe at grade C than we had proposed, by asking for changes to some of our grade boundaries."
A spokesperson for the WJEC added: "Given that the regulators have worked jointly on all matters to date relating to WJEC's GCSE English language awards, it is helpful that the minister's statement indicates that discussions 'will continue' with Ofqual on the results of WJEC English language candidates.
"We look forward to further urgent discussions with both regulators in order to be clear about the direction we should now take."
The percentage of pupils from Wales gaining an A* to C in GCSE English language fell from 61.3% in 2011 to 57.4% this year.
The Welsh government says it expects "several hundred" candidates will now get higher grades.
England's exams regulator, Ofqual, has refused to order exam boards to regrade this summer's English GCSEs.
It acknowledged grade boundaries had changed part way through the year, but stood by the new June grading system.
Mr Andrews said there was a "case to answer".
"We have looked in detail at the evidence and my regulatory officials have produced a very dry, sober and technical report on the conclusions that they have drawn," he said.
"It's very clear over the last 18 months Michael Gove has made a series of announcements about GCSEs and about A Levels without reference to the fact they are three country qualifications, he's not discussed his statements with me - but this is about fairness to individual candidates in Wales.
"That is why I have asked the WJEC to regrade the English language results this summer, I don't think they were fair."
But Conservative education spokeswoman Angela Burns accused Mr Andrews of political game-playing.
"While fairness and the welfare of pupils must always come first, I question the minister's motives in today's announcement," she said.
Mr Andrews questioned whether the Conservatives had read the report.
He also told BBC Radio Wales: "I'm going to be sitting down this morning with my officials and I've no doubt I'll be discussing it also with legal and regulatory officials in the department.
"We will give the WJEC a reasonable time to comply with our request before we make any decision to issue a direction, but we would issue a direction if forced to do so."
Wales' largest teaching union, the NUT, welcomed the move, saying the minister had recognised an "injustice".
NUT Wales secretary David Evans said: "Between January and June, exam boards changed the grade boundaries in such a way that many pupils who would have scored a C in January, scored a D in June - for exactly the same work.
"This change was not explained and has disadvantaged many thousands of pupils and their schools. That situation was simply unacceptable to the many pupils, parents and teachers who have been left feeling very angry at this action."
Dr Philip Dixon, director of education union ATL, said the report gave "a clear and forensic analysis of what went wrong".
Anna Brychan, director of NAHT Cymru, called it a "victory for fair play".