Survey finds employers optimistic about job prospects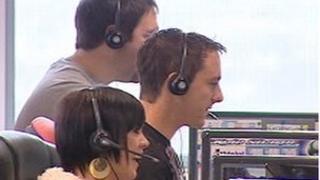 Employers are more optimistic about hiring new staff in Wales than at any time since 2007, a survey says.
Manpower found the insurance industry was leading the way, with new jobs being created at call centres.
The South Wales Chamber of Commerce said this reflected its own findings on business confidence.
But the Federation of Small Businesses said its own research showed employment intentions were sliding - a trend it expected to continue.
The survey is published on the eve of the latest official unemployment statistics.
Recent figures from the Office for National Statistics (ONS) show unemployment fell by 7,000 in Wales between April and June to 126,000
The employment survey by recruitment company Manpower asks business whether they intend to take on staff or cut back.
It produces a net employment outlook by subtracting employers who plan to reduce staff from those who plan to hire.
Its Welsh jobs outlook for the fourth quarter of 2012 was +15% - higher than the UK figure of +3% and higher than any time since the second quarter of 2007.
Finance and business services were the most positive sectors, while the outlook was most bleak for construction.
'Opportunities'
Manpower operations manager Andrew Shellard said employment prospects in Wales had done a "major about-turn"
"There's no doubt about which direction jobs are heading in," he said.
"We're seeing a lot of opportunities in the insurance and financial compensation sectors at the moment, particularly in call centres, and have also seen a rise in the number of vacancies for engineers and roles in utilities companies."
Graham Morgan director of South Wales Chamber of Commerce said the survey reinforced its own findings.
"Despite the current economic climate and the negative line taken by the media in much of its reporting, business owners have been telling us they have been feeling more confident about their future for some time now," he said.
"Many have expressed to us their plans to start recruitment now or in the near future.
"Of course we mustn't be complacent and must be mindful that, during this period, the number of jobs seekers traditionally increases as students finish school and university.
"But as the confidence within the business community continues to grow, it is only natural that we start to see this reflected in recruitment across Wales. Our job now is to ensure that it continues."
Electronics and software
But FSB Wales head of external affairs Iestyn Davies said the upbeat assessment contrasted with its own research.
It has shown a consecutive quarterly decline in employment intentions since 2010, "a trend we anticipate continuing in our upcoming economic survey for quarter three", Mr Davies said.
"Mixed reports of employment intentions point to an ongoing turbulent economic climate that is plagued with uncertainty," he added.
"The last round of employment figures offered a glimmer of hope, but we know that businesses continue to face barriers, in areas including access to finance, which must be tackled by decision-makers to encourage employment and ensure that insecurity around headcounts is not an issue."
Meanwhile the leaders of some of Wales' electronics and software companies are calling for their sector to increase the role it plays in the Welsh economy but warns a "skills shortage" could prevent this reaching its full potential.
"We must focus on creating and developing the talent pool in Wales and incentivise that talent to stay here rather than taking their skills across the border or overseas," said Ian Menzies, the chair of ESTnet, the body representing electronic and software technology businesses in Wales.
David Davies, managing director of Axiom Manufacturing Services and director of the ESTnet board said there is a need for investment "not only in human capital to tackle the science and engineering skills challenge, but also in research and development to remain competitive on a global scale".
On Monday it emerged an aerosol plant in Merthyr Tydfil is to close with almost 150 jobs lost.
The Ardagh factory at Abercanaid has been earmarked for closure in May with production due to move to Nottinghamshire and Norwich.