Gary Speed: Craig Bellamy's pain after friend's death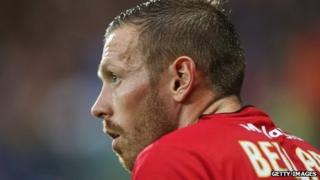 Footballer Craig Bellamy says the death of the former Wales manager Gary Speed has led to the "worst time in my life" and the break-up of his marriage.
The Cardiff City and Wales player told the Sunday Mirror: "All I know is that my best mate has gone. I'm struggling."
Ex-Premier League star Speed was found hanged at his Cheshire home last year.
His parents and family members marked what would have been his 43rd birthday on Saturday with a walk up Moel Famau, Denbighshire, near his childhood home.
Roger and Carol Speed told Wales on Sunday the family are still coming to terms with his death in November 2011.
'Affected everything'
Bellamy, 33, whose former clubs include Liverpool and Manchester City, told the Sunday Mirror he has moved out of the marital home he shared with his wife Claire and their three children.
He said: "Losing my best mate has affected everything. I can't believe how hard it is.
"He was the best mate I've ever had. It's sad but unfortunately it got to my marriage. I'm here and she's there.
"I don't know if that's it for us. All I know is that my best mate has gone. I'm struggling. I can't lie."
Bellamy told the newspaper of his family situation: "I can't tell you how hard it is. It's the worst time in my life ever."
Bellamy was part of the Team GB squad at the Olympics, and last month joined Cardiff on a two-year deal from Liverpool.
Speed's clubs included Leeds, Newcastle, Everton, and Bolton, and he managed Sheffield United.
A coroner at the inquest in January said he could not be satisfied that Speed intended to kill himself.