Welsh organ donor law consultation closes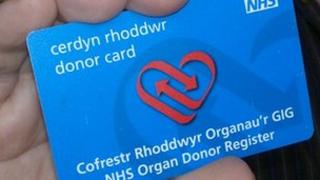 A public consultation on a new Welsh law bringing in presumed consent for organ donation will close on Monday.
The Welsh government's draft organ donation bill was published in June.
Under the proposed legislation, a person would be deemed to have agreed to be an organ donor, unless they opted out of the system.
Ministers want the new law to be in place by 2015. Supporters say donations will rise as a result but concern has been raised by religious groups.
Supporters have claimed that the new rules could help increase organs available for donation by as much as a quarter.
In Wales last year, just 67 people donated organs for transplant, but the transplant waiting list stands at about 300 people.
When she launched the draft Human Transplantation (Wales) Bill, Health Minister Lesley Griffiths said: "I believe the time has come to introduce a change in the law together with an extensive communication and education programme encouraging people to make a decision and to ensure their families know their wishes."
'Altruistic gift'
But the legislation has critics, and the Church in Wales, the Roman Catholic Church in Wales and the Wales Orthodox Mission have all raised concerns.
In a statement as the draft bill was published, the bishops of the Church in Wales said Christians should be encouraged to join the donor register, but organ donation was an "altruistic gift" that should be "freely given, not assumed".
"Evidence that any system of 'automatic' donation increases the supply of organs - whether it's called 'presumed' consent, 'deemed' consent, or 'opt-out' - is still disputable," added the bishops.
Earlier this year, a BBC Wales/ICM opinion of 1,000 people found 63% of people in favour and 31% against the policy.
The Welsh government had also carried out consultation, which asked a number of questions about implementing the policy, including which factors should be taken into account when determining whether an individual lived in Wales and how the wishes of families should be taken into account.
The health minister published a summary of responses to the proposals, which showed 52% in favour and 39% against.
It did not ask respondents directly whether they supported the proposals, but 1,124 of the submissions did indicate a view, with 642 in favour and 482 opposed.