Julia Gillard: Australian PM's tribute to Welsh father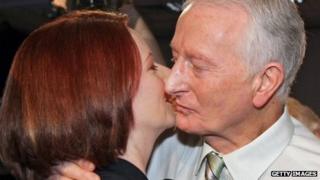 Australian Prime Minister Julia Gillard has paid tribute to her Welsh father, who has died at 83, as her inspiration.
Ms Gillard was born in the south Wales seaside town of Barry, and emigrated with her parents John and Moira to Australia when she was four in 1966.
She said her father transcended his "humble beginnings" in a mining village and taught her to "love learning".
After his death Ms Gillard left a political summit in Russia to return to her family in Adelaide.
His death was announced by the Russian president, Vladimir Putin, in Vladivostok.
Ms Gillard became Australia's first female leader two years ago, and Mr Gillard told The Australian newspaper at the time that it was "a privilege to have your daughter in the highest office in the land".
At the Asia-Pacific Economic Co-operation (Apec) leaders' summit Ms Gillard issued a short statement which said: ''My father, John Gillard, passed away this morning in Adelaide.
"He has battled illness in recent years but his death is a shock for me and my family.
"Dad lived a long and full life. He was brought up in a coal mining village and left school at 14, but transcended these humble beginnings to become a man with a love of ideas, political debate and poetry.
"Migrating to Australia in 1966, he studied for a new life in a new land and became a psychiatric nurse. For more than two decades, he showed his capacity for love and care to those most in need of help.
"My father was my inspiration. He taught me that nothing comes without hard work and demonstrated to me what hard work meant as a shift worker with two jobs.
"He taught me to be passionate about fairness. He taught me to believe in Labor and in trade unionism.
"But above all, he taught me to love learning and to understand its power to change lives. He always regretted his family background meant he had not proceeded on to higher education as a young man.
"He was determined that I had the opportunities he was denied. I will miss him for the rest of my life''.