First Minister Carwyn Jones: Wales lacks capital, not ideas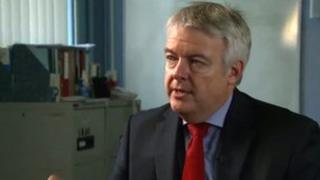 First Minister Carwyn Jones says Welsh industry is suffering from a lack of investment, and not ideas.
He told BBC Wales that it was vital for government to help the economy, but blamed stagnation on the banks.
Mr Jones said overseas investors were interested, but Wales lacked the "large pool" of capital of Germany and the US.
He was speaking to a BBC Wales TV programme, in which a leading businessman said small firms leave Wales because of excessive regulation.
"Business is saying to me we can't get the capital to expand, the banks will not lend to us - it's a universal problem," Mr Jones tells presenter Stephen Evans on Sunday night's programme, Is Wales Working?
Henry Engelhardt, the American-born chief executive of the Cardiff-based Admiral insurance group, told the programme that small businesses often viewed bureaucracy in Wales as petty.
But Mr Jones said the main problem was a lack of capital available for investment from the banks.
He said: "Until that's cracked, until we see a better flow of capital to people with good ideas, some of them will get funding but those that don't at the very beginning will struggle."
Mr Jones said it was important for ministers to do what they could to help boost the economy and not expect private enterprise to act alone.
"Who else is going to do it? I'm a believer in government intervention where the economy is bumping along the floor and that's what we've been doing."
Mr Jones admitted that it was important to ensure that when recovery comes the benefits were seen across the country.
'Tough nut to crack'
"There are some parts of Wales where things remain difficult and have been since the '80s," he said.
"It's a tough nut to crack but I think we're getting there. What we need to do over the course of the next five to 10 years is try and spread prosperity.
"Cardiff has done very well; Swansea has had serious investment over the past 10 years. The old mining valleys are more difficult - geography makes it difficult to attract investment in there historically."
Mr Jones added that investment in superfast broadband should ensure that the location of a business would be immaterial.
But he admitted that the culture of Wales had deterred many school leavers from entering industry.
"What people wanted for their children was a job that was safe, respectable, and had a pension at the end of it," he said. "In many ways we were put off going into business or commercial activity which seemed a bit risky.
"It has changed over the last 10 years. We've never been short of entrepreneurs - what we've been short of is the confidence so that those entrepreneurs can turn their ideas into successful businesses that employ other people."
Is Wales Working? is on BBC One Wales on Sunday, 9 September, 22:25 BST