Call to expand free bus pass scheme on 10th anniversary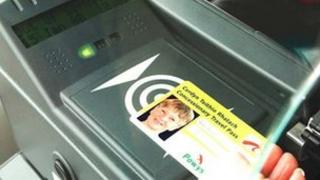 A free bus pass scheme for older and disabled people should be extended to all forms of public transport, a charity has said.
The bus scheme, which has marked its 10th anniversary, allows users to catch local bus services across Wales.
Age Cymru said it wanted to see more bus services provided and an integrated transport system to help those who cannot continue driving.
The Welsh government said extending the scheme to trains would be unaffordable.
The scheme has cost £427m over the past decade, government figures show.
Age Cymru spokesman Iwan Rhys Roberts said: "The free bus pass scheme is very popular and has been widely welcomed by older people in Wales.
"However, people do tell us that there aren't enough bus services to allow them to really make the most of their free pass.
"We'd like to see the scheme expanded to include other forms of public transport, such as trains, but Wales does need an integrated public transport system.
"This would help people who can't drive to maintain their independence and get the most out of life, and it would also benefit wider society and the environment by reducing our reliance on cars."
Sarah Rochira, the Older People's Commissioner, backed the call for improving bus services, particularly in rural areas.
She said: "We must therefore explore ways that the concessionary scheme could be expanded to ensure that older people can access the transport they might need, for free, wherever they live in Wales.
"We should also recognise the valuable role community transport schemes can play in keeping older people active, and able to get around."
Ms Rochira added a survey carried out for the commission found over 90% of people questioned said their passes allowed them to be independent, while over 80% felt that without the bus pass, their quality of life would suffer.
A Welsh government spokesman said: "We have extended the free concessionary travel scheme to some train services such as the Conwy Valley, Cambrian Coast and Heart of Wales Lines subject to some local restrictions.
"However, extending the free bus pass scheme across the rail network in Wales would be unaffordable in the face of very tight spending settlements from Westminster."
Service veterans
The Welsh government remains committed to the policy until 2014.
More than 600,000 people who are either over 60 or any age and disabled use the service.
The Welsh Tories have said they would expand it to include service veterans.
Following the launch of the scheme in 2002, retired bus company worker John Richards from Old Colwyn travelled the length of Wales using local services over two days.
Mr Richards, 75, is reprising the journey to mark the anniversary, accompanied by TV presenter Iolo Williams.
He started his journey in Colwyn Bay and is ending it in Cardiff Bay.
He said: "I travel around Wales a fair bit. So many older and disabled people have used this right from the start.
"The number 12 service in to town used be an hourly service and now it is every 12-15 minutes."
Mr Richards said it was because of older people using the bus service that the frequency had increased.
He added: "People talk about taking the bus pass away from us. That would be very destructive. Old people wouldn't be going out as much as they do."