Academy schools: Wales would benefit, says Lord Adonis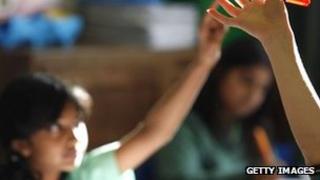 The former Labour minister who is the architect of England's school academies says they could work well in Wales.
Lord Adonis says academies aim for higher standards, but respects Wales' "political choice" to avoid them.
In the English system, comprehensives are taken out of local council control and run by independent trusts.
However, the Welsh government says it is not considering the model for Wales, and a teaching union was sceptical that it was a success in England.
But Lord Adonis told BBC Radio Wales' Sunday Supplement that that the academy model of secondary schools would benefit Welsh education.
"There is absolutely no reason why you couldn't have academies in Wales," he said.
"Academies are community schools in the same way as comprehensive schools, their intake is the same, they teach broadly similar curriculum.
"In so far as it is different, it is because it tends to be more ambitious because they have got their sights fixed on higher standards."
There are now more than 1,800 academy schools in England, with many seen as turning failing comprehensive establishments into successful new secondary schools.
The schools are funded directly from the UK government and the Department of Education, rather than from local education authorities.
They are often registered as charities and managed by boards backed by universities, businesses or wealthy philanthropic donors.
Lord Adonis first began promoting the idea of school academies while he was an adviser to then Prime Minister Tony Blair. Later, he became minister for schools as the academy programme expanded.
He added: "All three political parties in England now - Labour, Lib Dem and Tory - all of them have come to support academies.
"I have no doubt at all that if the Welsh government decided it wanted to set up some academies, you would be able to set up some outstandingly successful ones.
"Equally, this is a matter of political choice and of course I entirely respect the view of those who are responsible for governing Wales that they don't want to do this."
The peer said he felt that the academy system retained some of the best aspects of the comprehensive system, in particular ensuring that admission policies remained firmly fixed on all abilities.
"The test then is does this produce a better managed school?" said Lord Adonis.
"If it does, so the results go up, more children get a good education who weren't getting it before, and the parents are satisfied - what is there to object to in that?"
'Higher expulsion rates'
However, the model of academies adopted in England has always been firmly rejected in Wales, both by ruling politicians, and teaching leaders.
Owen Hathway, of the National Union of Teachers Wales, said he was far from convinced by the arguments put forward by Lord Adonis.
Mr Hathaway pinpointed one concern as changes to the education system in England which mean academies could employ unqualified teaching staff.
He added: "They also work outside the curriculum, hours have changed, there is a higher expulsion rates among these academies in England, so these whole issues bring into question what's being taught, by whom and to whom.
"In that sense, I'm not sure that it does stack up that this has been a success story in England."
The Welsh government restated its support for the current system of education in Wales.
A Welsh government spokesperson said: "UK government initiatives such as the establishment of academies are not under consideration by the Welsh government and it is not possible to establish such schools in Wales.
"There is already diversity within the school system in Wales, including Welsh medium community schools, and maintained schools with a religious character.
"The Welsh government is committed to the continuation and development of a comprehensive system of local authority maintained schools which is both community focused, and provides for the needs of all learners in our communities."