Admiral boss claims small businesses deterred by 'petty' rules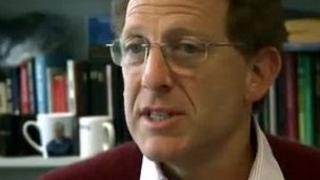 The chief executive of one of Wales' biggest private sector employers claims small businesses leave the country because of excessive regulation.
Admiral is one of Wales' biggest private sector firms, employing 1,800 people in Cardiff and 1,400 in Swansea.
US-born Henry Engelhardt says Welsh workers are great but believes Wales has too many rules and regulations.
"They're often seen as being very petty, and people with small businesses in particular can't carry the burden."
The Chicago-born millionaire shared his views with BBC correspondent Stephen Evans for a TV special about the state of the jobs market in Wales.
'Can-do mentality'
Mr Engelhardt said private enterprise found the going tougher in Wales and the UK as a whole because of a difference in culture.
"There's really a can-do mentality in the US," he said.
"Anyone can succeed - there is that belief, that kind of American dream. I don't know if it's really true but it's what people think.
"I'm not sure that's the way it is here - I'm not sure people aspire to that, much less believe they can achieve it."
Mr Engelhardt said potential business start-ups would be encouraged by seeing others succeed, but he urged those in power to avoid excessive regulation.
"There are a lot of rules and things that come up," he said.
"They're often seen as being very petty and people with small businesses in particular can't carry the burden of those things so they get out."
In June, business leaders said the Labour Welsh government risked the loss of jobs if it pushed ahead with a manifesto commitment to introduce a 'living wage' in excess of the statutory minimum wage.
Small businesses have also warned that the Jobs Growth Wales strategy would amount to little more than a training scheme unless the wider economy was strong enough to support longer-term jobs.
'Misunderstood'
Mr Engelhardt added that the volume of regulation may be a result of over-governing by Westminister, the Welsh assembly and local councils.
"I think there's a lot of government - if you take the ratio of government per person, if the equivalent was true in the US, Congress would be about 6,000 people," he said.
"A lot of our government has built up because 100 years ago Caerphilly was different to Cardiff but now where's the line really? I can drive to Caerphilly in 15 minutes."
Mr Engelhardt revealed that he was originally planning to set up Admiral's headquarters in Brighton until the former Welsh Development Agency came forward with a £1m grant.
The company was launched in January 1993 with its headquarters in Cardiff.
But he said he was concerned that people still thought of Cardiff as the capital of a land of coalmines and declining industries.
"The sad thing is so many people we meet, even people from other parts of the UK, think they're going to get to Wales and everybody's going to have a lamp on their heads and black marks under their eyes," he said.
"Nothing could be further from the truth. This is a cosmopolitan city, it's got a lot going for it - all of south Wales does - and it's just very misunderstood."
Is Wales Working? is on BBC One Wales on Sunday 9 September at 22:25 BST