Welsh NHS: RCN fears 'breaking point' this winter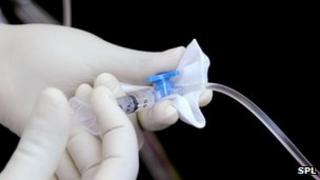 A nurses' leader said acute hospital emergency departments in Wales were seeing unprecedented demand and feared a "breaking point" this winter.
Tina Donnelly, director of the Royal College of Nursing (RCN) in Wales, also fears health boards in Wales will struggle to balance their books.
Her comments came as officials across Wales revealed continuing overspends.
The Welsh government said it had launched an education campaign to reduce "inappropriate pressure".
The RCN's concerns came after it emerged some health officials had ordered cuts to overtime and agency staff spending, while all health boards were struggling to meet savings targets.
Abertawe Bro Morgannwg University Heath Board (ABM) said on Thursday that it was taking the steps as its current financial position was "a cause of great concern".
In the four months to July, its overspend was £7.5m.
The picture is repeated across Wales.
Cardiff and Vale had an overspend for the four months to July of £12m, while it needs to hit a savings target of £72m by the end of the year.
For the first three months to June, Betsi Cadwaladr in north Wales, had an £8.6m overspend, with £64.4m in savings to be found.
For Cwm Taf, the overspend is £2.5m with a £23.7m saving required
Hywel Dda in mid and west Wales has a £4m deficit and £36m in savings to find.
Powys health board recorded an overspend of £3.8m with a savings target of £19m.
Asked what the consequences were for patients this winter if changes were not made to the NHS in Wales, Ms Donnelly, speaking on BBC Radio Wales, said: "I think, obviously, that it comes to breaking point.
"Normally what we see at winter is the pressures and emergency care centres trying their best to cope with that demand. Unfortunately, this year this has continued throughout the summer.
"There is insufficient capacity within the community to discharge patients out of hospital, and as a consequence of that there is also insufficient care in the community (or) opportunities for people who need to see doctors, so they turn up at emergency care departments.
"Hospitals then have to cope with their duty of care and they have to see individuals who do need to be seen."
"Unfortunately for the NHS and the local health boards, they have seen an unprecedented demand in emergency care services continuing, what normally continues as winter pressures going on throughout the summer.
"If that demand is not resourced then there will have to be changes again later in the year if the health boards are to come in on budget."
She said more capacity was needed in GP surgeries and other areas in the community, where nursing staff could assess patients.
A Welsh government spokesman said: "NHS organisations must have appropriate staffing levels in place to meet fluctuating demand.
"We have launched a campaign and the Choose Well app to better educate people about the healthcare services available to them when they become ill and reduce inappropriate pressure on A&E and primary care services."
Conservative health spokesman Darren Millar AM, said tbe health service was "threatening to implode".
He added: "This is more evidence that our NHS is the sick man of Britain and desperately needs investment."
Plaid Cymru health spokesperson, Elin Jones AM, said: "This shows the absurdity of the Welsh government deciding to operate A&E services from fewer sites in Wales.
"Whilst we agree with some of the efforts aimed at preventing people from needing hospital treatment through better management of chronic conditions, it will always be the case that we need a properly resourced accident and emergency service for all of Wales."
Public protests
All health boards are already looking at ways of reorganising their services long term, including the Betsi Cadwaladr board in north Wales.
Hundreds of people turned out on Thursday in Blaenau Ffestiniog, Gwynedd, to protest at the proposals, which would effectively see the town's community hospital closed.
But as a day of meetings with the public in Blaenau got underway, Sally Baxter from the health board stressed that the plans were not all about financial savings.
"These are changes we want to make anyway," she said.
"The financial context we have, let's be plain, is going to mean we have to make some changes to cope.
"But this is about about improvements and making sure that services are fit for the future."