Raspberry Pi production moves to Wales from China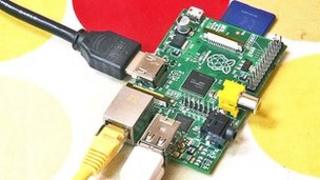 Production of the popular Raspberry Pi computer is switching from China to south Wales.
The £16 credit card-sized computer, which aims to get young people interested in programming, was launched earlier this year to critical acclaim.
The success of the venture has now seen Sony step in to offer its Pencoed plant near Bridgend to make the mini-computer.
The deal will see 300,000 boards built, creating an extra 30 jobs at the site.
Sony will make the new computers for the company Premier Farnell, which distributes the Raspberry Pi on behalf of the device inventors, the Raspberry Pi Foundation.
Eben Upton, the charity's executive director said: "It's a fantastic day for us. This has been in the pipeline for about six months after we visited the Sony site.
"It is so good to see that we can still do this sort of thing in the UK - do it in Wales."
'Made in Wales'
The first Raspberry Pi computers went on sale February, but the foundation was forced to outsource the manufacturing to China after being unable to find a plant willing to take on the project in Britain.
But the overwhelming success of the device has seen it sell so many, it is now cost effective to produce in the UK.
"We'd hoped we might sell about 10,000 in the first year - so far it's been 400,000. People love it," added Upton.
"It's been coming off the lines at Pencoed for a few weeks, so people now actually have them in their hands.
"It's a great day for everyone involved."
The Pencoed site already has a worldwide reputation for the broadcast and professional video cameras made at the site.
Steve Dalton, the managing director of the Sony UK Technology Centre at Pencoed added: "We are now in our 20th year at the Pencoed site and we have had to diversify our service offerings to ensure the site's sustainability.
"By working with innovative companies, like Premier Farnell, we are able to extend our manufacturing services offering for existing and potential customers.
"Furthermore, the Raspberry Pi Foundation, encompasses our view on developing young people's knowledge of the technology industry.
"Organisations like this one help build the technologists of our future by inspiring the next generation."