Stephen Crabb MP on his new job in Wales Office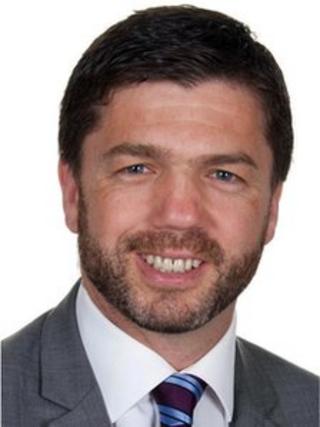 Preseli Pembrokeshire MP Stephen Crabb says his new job in the Wales Office illustrates the prime minister's vision for Wales.
Conservative Mr Crabb will join Liberal Democrat Jenny Randerson as deputy to new Welsh Secretary David Jones.
He says it is part of David Cameron's plan to bring Whitehall and Wales closer.
Mr Crabb will remain a whip and told BBC Wales he is "confident" he can do both jobs.
"The prime minister wouldn't be offering it to me if he didn't think I had the energy and the enthusiasm to do it well," he told BBC Radio Wales.
Mr Crabb fills the post vacated by new Welsh Secretary David Jones and also has an "enhanced" role at the Whips' office.
"It is unusual but I think it's a really positive statement from the prime minister about what he wants this new Wales Office to be doing," Mr Crabb said.
"There's important work to be done at the Wales Office, he's known for quite some time what he wants to do and yesterday he implemented it."
Mr Crabb said his role at the Whips' office "ties in very closely" with his Wales Office post. The plan is to "make sure Wales is maximising every opportunity".
"There's a lot of work to be done, there's a team of three of us now, it's a question of managing our time effectively and I'm confident I'll be able to do the jobs well," he said.
Mr Crabb was elected to parliament in 2005 and was re-elected at the last general election.
He grew up in Haverfordwest, which is in his constituency, and is married to Beatrice. They have two young children.