Fashion chain Jane Norman moves London HQ to Cardiff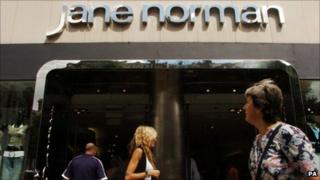 Fashion chain Jane Norman is to move its headquarters to Cardiff from London and is pledging up to 50 more jobs at the office over the next six months.
The retailer, bought by Edinburgh Woollen Mill (EWM) group last year after going into administration, has still to decide where it will be based.
It could share Cardiff offices with Peacocks, also owned by EWM, or use its distribution site at nearby Nantgarw.
Jane Norman has about 100 stores in the UK and some 150 outlets overseas.
Group marketing manager David Read said the firm had decided to move as the lease of its London office was coming to an end.
He said most of the group's 70 London headquarters staff had decided to make the move to Wales.
The company would make a decision within the next two weeks on where it would be based, he said.
The options were the office near Cardiff city centre already used by Peacocks, another EWM-owned clothing chain, or the Nantgarw distribution centre, which employs around 600 following the closure of its Coventry warehouse, he added.
He said: "We decided that we are going to move to Cardiff.
'Right environment'
"We have got to make sure that we have the right space and the right operating environment.
"Clearly we've got expansion plans. That will lead to more new jobs over the next three to six months in Cardiff."
EWM bought Jane Norman, whose clothing is aimed at 16 to 25-year-olds, in June 2011.
Mr Read said: "We always liked the brand. We feel the brand has a huge amount of opportunity to grow over the next 10 years.
"We see it as a truly international offer, something we can take around the world."
EWM also bought Cardiff-based Peacocks out of administration for £23m in February, safeguarding 6,000 jobs across the UK, including around 250 at the head office in Cardiff.
However, about 3,000 staff were made redundant after the chain went into administration under a debt burden of around £750m of debt.