Drink firms 'target young online', Alcohol Concern Cymru claims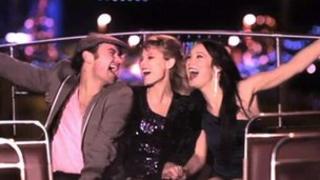 Campaigners claim drinks firms are using the internet and social media to evade restrictions on promoting alcohol to young people.
The warning comes as more than 100 health and charity officials attend Alcohol Concern Cymru's annual conference in Cardiff.
The organisation says youngsters are increasingly targeted by online adverts which would be banned on TV.
Health Minister Lesley Griffiths has urged the UK government to take action.
Advertising codes of conduct prohibit companies from targeting or glamourising alcohol amongst under-18s.
'Positive expectations'
But Andrew Misell, manager of Alcohol Concern Cymru, says drinks firms have long responded to restrictions on traditional forms of advertising to reach young people through other means, such as event sponsorship.
"Research has shown that alcohol marketing messages are getting through to children and young people well below the legal drinking age," he said.
"We know that youngsters exposed to alcohol marketing are more likely to start using alcohol and have more positive expectations about its effects.
"There needs to be a tougher stance on the rules governing alcohol marketing, including putting an end to alcohol industry sponsorship of sports and music festivals, and generally ensuring that where alcohol advertising is permitted it only reaches an adult audience."
Tom Smith, policy programme manager for Alcohol Concern nationally, said teenagers on its Youth Alcohol Advertising Council had reported a growing trend for drinks firms to promote themselves online.
He gave the example of a brand of cider which launched a YouTube channel with a series of videos promoting the brand as supporting youth and rebellion.
Exploiting opportunities
He added that drinks firms were also using Facebook to target young people, although the social networking site had promised to look at its mechanisms to see if it could do more to protect under-18s.
Mr Smith said a major problem was that advertisers were quicker to exploit new technology than the authorities were to keep up with them.
"Regulation isn't designed to cope with advertising on the internet and social media which operates on a minute-by-minute basis," he said.
Speaking before the conference, health minister Lesley Griffiths urged the UK government to do what it could to tighten up the regulations on the marketing of alcohol.
"Whilst we can educate people of the dangers and provide help to those who need support to reduce their reliance on alcohol, the UK government can also make a significant difference with its powers to legislate on price, licensing and advertising," she said.
"I will continue to press the case for stricter control on the marketing of alcohol products, particularly where they specifically target children and young people, and I look forward to discussing this at the conference."