Tenovus Cancer Callback: New nurse phone help for patients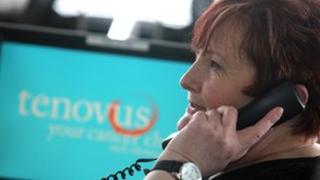 Cancer patients in Wales are to be offered seven-day-a-week telephone support to allow them to discuss their issues and worries with a nurse.
The service will give newly diagnosed patients the chance to be contacted by the nurses throughout their treatment, and allow patients to call them back.
A former cancer patient said it will be invaluable at a "terrifying" time.
Health Minister Lesley Griffiths said it would help the increasing number of people with cancer in Wales.
Newly diagnosed cancer patients can sign up to the service either through the health professionals dealing with them, or by ringing Tenovus.
The charity said people often worried about matters which they considered too small or silly to ask their doctor.
"There is a [Tenovus] support line currently, and other cancer charities offer something similar, but this is the first pro-active service where the nurse will ring the patient," said Liz Rawlins, from the charity.
Funding of £189,560 for the project has been provided by the Burdett Trust for Nursing following a successful pilot project.
One of the nurses, Diane Harding, said she felt passionate about the job because she had breast cancer six years ago, and can relate to what people are going through.
"Even though I knew the surgeon who operated on me, and I was looked after on the ward where I worked, the experience was no less frightening," she said.
"Oncology is not my field and I had questions I wanted to ask, things like 'can I have a drink?' - you can but you won't want to because you'll have an odd taste in your mouth.
"The only stupid question is the one you don't ask because you don't want to frighten your next-of-kin or your children."
The health minister said: "A cancer diagnosis is a major event in the lives of increasing numbers of people in Wales and can bring with it many worries and concerns and, in conjunction with existing specialist NHS services, Tenovus is now able to address these."
The service is free and patients can sign up by calling Tenovus on 0808 808 1010 from 8am to 8pm seven days a week.