Propeller leg boy Cian Wyn Williams has 700 stitches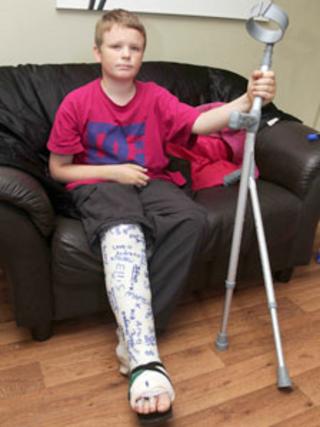 A 13-year-old boy has had nearly 700 stitches to save his right leg after it was caught in a speedboat's propeller.
Cian Wyn Williams, from Porthmadog, Gwynedd, has spoken about the accident, which happened as he was trying to climb back into the boat from the sea.
Paramedics feared he would lose the leg and surgeons at Ysbyty Gwynedd in Bangor prepared for an amputation.
But the teenager is learning to walk again after a four-hour operation though he may be left with a limp.
Cian was with his older brother Marcus, 18, and three friends at the harbour in Porthmadog when the group was invited onto the boat by its owner.
The group set off to Pwllheli for fuel for the boat and on the return journey stopped at Borth y Gest for some of the boys to swim.
Cian had already jumped off the boat once and climbed up the ladder at the rear, close to the engine, which the boat owner had switched off.
He jumped off a second time and was approaching the ladder again when he said the boat was being pushed towards rocks and owner tried to move it away.
He told BBC Wales: "Some water bikes had gone past and made waves. The waves were pushing the boat towards the rocks. I was swimming to get back in the boat and the man's phone rang.
'Conscious'
"He was talking on the phone and did not realise. He reversed onto my leg.
"I was just shocked more than anything. I wasn't sure if it was real or not. I thought I was dreaming.
"The propeller started sucking me under the water. He shut the engine off before it sucked me under.
"My brother grabbed me and put a towel around my leg. He stopped the blood coming out."
With Marcus holding the blood-soaked towel, the group sped back to Porthmadog where paramedics were waiting.
Cian was taken to hospital by helicopter. He remembers one of the emergency team telling the hospital to "prepare for an amputation".
Yet he remained conscious throughout his ordeal last month and talked to the medical team as they X-rayed his leg and performed surgery.
'Healing'
Surgeons used more than 600 stitches to reattach ligament and muscle in his leg as well as putting in another 85 stitches from thigh to ankle.
Cian is now back at home but faces another operation to connect a ligament to restore more movement to his foot.
He has been back to have the cast taken off to check on how the leg is healing, and says he found that a difficult time.
He said: "It was more painful to see it that it actually is. I have lost some skin and lost some feeling in my leg. The foot is stiff at the moment. I have gone through a ligament.
"You could see that it was healing but for me it was not a pretty sight. It's swollen as well.
"It did upset me to see it but hopefully I will be up on my feet in about six weeks."
The favourite sport Cian played at Ysgol Eifionydd before the accident was rugby.
'Ankle and foot'
He said: "That's out for a while but I don't think it's over. I think I will be playing again."
His mother, Sharron, said: "It's been very traumatic. Cian seems to be settling down now. He went through the ankle and foot more than anything.
"All going well, he should be walking again. The worst-case scenario is that he will have a limp but that is nothing compared to what it could be.
"It's going to be a long journey but he will get there."