Operation Tornado: Welsh police forces join metal theft crackdown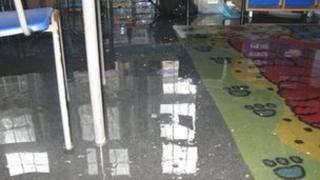 Welsh police forces are joining a UK scheme to crack down on metal theft from Saturday.
Operation Tornado is being introduced across the country after a successful pilot in the north-east of England earlier this year.
The scheme requires anyone selling scrap metal to participating dealers to provide photographic proof of identity.
In a separate scheme, British Transport Police are launching a metal theft task force with Gwent Police this month.
A pilot scheme similar to Operation Tornado reduced metal thefts in the north-east of England by around a half.
Certain areas of Wales, such as Rhondda Cynon Taf, have been hit hard.
Thefts have stopped hospital operations, caused funeral services to be postponed and led to major damage to schools.
Metal thieves struck at Tonypandy Primary School twice over the summer, stealing part of the roof which caused damage to classrooms.
Chair of governors Craig Middle told BBC Radio Wales the public were no longer tolerant of such thefts and Operation Tornado was much needed.
"I think it does hit home with what has gone on in the last month," he said.
"When monuments and war memorials are hit that does hit on the heartstrings of the public.
"I think the tolerance is now gone and hopefully we can catch them."
Thieves also struck at Tref-y-Rhyg in Tonyrefail earlier this year, taking roof lead flashing that caused flooding and thousands of pounds of damage.
Damage to communities
A film was released in south Wales in July depicting how metal thefts could affect people's lives.
It explained how thefts caused £250,000 in damage to communities across Rhondda Cynon Taf in nine months.
Elsewhere, a 16-month crackdown by Gwent Police resulted in more than 860 arrests and nearly 1,500 vehicles being seized.
Ian Hetherington, director general at the British Metals Recycling Association, said Operation Tornado was voluntary but that did not stop it being effective.
"In the north-east, after Tornado had been operating for about two months, all but about four yards had signed up to this," he said.
"If they don't join and don't join willingly, the police will make their presence felt."
Det Insp Mark Cleland, of British Transport Police, said scrap metal dealers were part of the solution, not the problem.
"We will be working with them to enforce this code of conduct until legislation kicks in later in the year.
Theft hotspot
"We want to work with them to professionalise the industry and target the people who are dealing in criminal acquisition of property."
In a separate scheme, transport police are working with Gwent Police to target a metal theft hot spot in south Wales.
"We've got some British Transport Police officers, some Gwent [Police] officers and we've got support from the Environment Agency," said Det Insp Cleland.
"We're going put everyone in a small area where we're having major problems and they're going to be dedicated to tackle just metal thefts in that location."
He said the initial area targeted was in the Rhymney Valley but the aim was also to expand into Newport.
Later this year, new legislation will be introduced to stop cash being used to buy and sell metal at scrap dealers.