Welsh government to consider English GCSEs report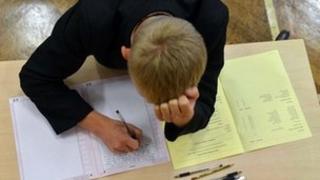 The Welsh government is to "carefully consider" a report by England's exams regulator after it refused to order exam boards to regrade English GCSEs.
Ofqual acknowledged grade boundaries had changed part way through the year, but stood by a new June grading system in a row over results.
The Welsh government is carrying out a separate review into GCSE results.
Wales' main exam board, WJEC, said last week it had received 1,000 appeals about English language exam results.
The board said in total, 1,500 complaints had been made across all subjects.
Welsh Education Minister Leighton Andrews wants to know why results fell.
GCSE top grades across the board in Wales, England and Northern Ireland dropped this year for the first time since replacing O-levels and CSEs in 1988.
Legal action
A Welsh government spokesperson said: "We will be carefully considering Ofqual's report and its implications for Wales.
"The report refers to the situation in England. We are conducting our own investigations and will draw our own conclusions in due course."
Head teachers in England urged Ofqual to investigate when it was revealed that grade boundaries for the exams were changed part way through the year.
The regulator said the January papers were marked too leniently, but stood by the new June grade boundaries.
Instead of regrading, pupils would be offered early resits, Ofqual said.
Head teachers' union, ASCL, said the move was wholly unacceptable and is threatening legal action.