Paralympic gold medallist Mark Colbourne pays tribute to coaches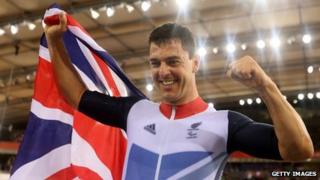 Paralympic cyclist Mark Colbourne has explained how sport and his coaches gave him back his life, after securing gold and silver medals at the Games.
Colbourne, 42, from Tredegar, south Wales, secured Britain's first medal, a silver in the C1-3 1km sprint, and then hit gold in the C1 3km individual pursuit on Friday.
Colbourne was badly injured in the Gower, Swansea, in a paragliding accident in May 2009.
His medal came on his Paralympic Games debut, and the first people he thanked were the coaching staff from Disability Sport Wales (DSW) who helped him on the road to recovery.
He underwent five months of gruelling physiotherapy just to learn to walk again.
Colbourne was left with a broken back and lower leg paralysis after his paraglider fell to the ground from around 40ft (12m).
With a natural passion for sport, as part of his treatment and rehabilitation he went on to compete in the Welsh indoor adaptive rowing championships.
In September 2009 he set himself a target of competing in his first Para-cycling event and went on to win two gold medals at the Wales Grand Prix in Newport.
His remarkable commitment saw him being invited as a guest rider for the GB Para-cycling team before joining the squad in June last year.
Before his accident he had represented Wales at volleyball from 1990 to 1993.
Recalling the days after his accident, he said: "My future was very uncertain.
"I didn't even know if I would ever walk again due to the damage that had been caused to my spine.
"It was a very slow and worrying time for me and my family. You can imagine the phone call my mother had on the day I didn't come home."
The former sales consultant spent the next four months in a bed at Cardiff's Rookwood Hospital, graduating to physiotherapy and then walking frames.
These improvements lifted his spirits, but it was meeting Anthony Hughes of DSW, that would really change his life.
"I realised there were opportunities for people like me who'd had terrible accidents or had severe illnesses," he added.
"The worst thing in the world is when you've had something taken away from you and you have no control over it.
"It's difficult to focus on anything positive. I tried rowing, shooting and cycling - anything at all to take my mind off this disability that wasn't going to change."
Although he had no movement in his feet, hamstrings or glutes, he found the nerve damage did not extend to his quadriceps - meaning he could ride a bike.
On leaving Rookwood, Colbourne started training with the DSW Academy Para-cycling squad under the guidance of its coach Neil Smith, and in May 2010 debuted in a track race, the Wales Grand Prix.
"I felt at that point I was returning back to society," he said.
"I thought it would be a good idea to take up something to stop me from sitting in the house all day."
He added: "I had to work to get the muscle memory back and start training like an athlete - it was slow.
"I owe such a lot to the DSW team and to Neil. They gave me my life back. I get a massive buzz from cycling because when I'm walking with my crutches I do feel disabled.
"However, when I'm on the bike I do feel able-bodied again, so it's a great feeling that I look forward to every day."
And his dedication clearly paid off following his podium place at the Paralympics.
Sport Wales chief Laura McAllister said: "What he has achieved in such a short space of time is phenomenal, and there's still so much to come from him in these Games."