One in 10 Welsh babies have foreign-born mothers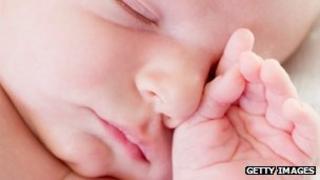 One in 10 babies born in Wales have mothers who were born outside the UK, according to the Office for National Statistics (ONS).
The proportion hit a record high last year and has more than doubled in a decade, official figures show.
Of the 35,958 babies born in Wales in 2011 the mothers of 10.7% were born abroad, up from 5.2% in 2001.
In Cardiff, more than a quarter of babies had foreign-born mothers last year.
But not all of the mothers are recent arrivals to the UK as the figures include women who could have moved here at any point in their lives, including when they were children.
The number of children born in Wales every year has risen by about 5,000 in the last decade.
During that time the number whose mothers were born in foreign countries has also increased - from 1,594 in 2001 to 3,824 in 2011, according to the ONS.
Negative attitudes
Of the 22 local authority areas, Cardiff has the highest proportion.
Since 2001, the percentage of births in the city to foreign-born mothers has risen from 14.6% to 25.1%.
The ONS said 25.5% of babies in Wales and England were born to mothers who were born outside the UK in 2011 - a slight increase from 25.1% in 2010. Poland is the most common country of birth for non-UK born mothers.
It follows separate research which suggests Welsh people may have more negative attitudes towards immigration than Scotland, Northern Ireland or parts of south-east England and London.
'Economic issues'
Dr Robin Mann, of Bangor university's school of social science, found surveys conducted between 2008 and 2010 showed people in Wales, the English midlands and the north of England shared a higher level of support for reducing immigration.
But Dr Mann said the work, published in June, was an "exploratory study" because of the the small sample size used to compare attitudes in the UK's nations and regions.
He said: "One interpretation would be that people in Wales are more anti-immigration than elsewhere.
"But probably a more accurate interpretation is that really people in Wales are actually no different than say the north of England, other areas seeing similar economic issues coming out of industrialisation or other areas that have tended to suffer from higher unemployment."