Third wettest summer on record in Wales, says Met Office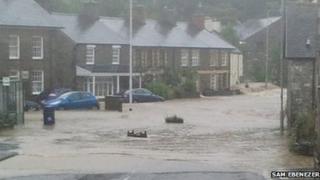 Wales has endured its third wettest summer since records began in 1910, according to the Met Office.
For sunshine it is expected to be the country's second dullest.
Across the UK experts claim it will be the wettest summer in 100 years, and the second wettest on record.
The unseasonal weather led to the damage of hundreds of homes and businesses following torrential rain in Ceredigion, while a number of summer shows in Wales were cancelled.
The Met Office said June was the wettest month in Wales with 205mm of rain falling, compared to the monthly average of 85.8mm
In July, 127.6mm of rain was recorded - the average is 92.6mm - while so far this month 124.6mm has fallen, with the average being 107.4mm.
BBC Wales weather presenter Sue Charles said: "It felt like a washout Welsh summer at times, now the statistics back that up.
"August and July were both wetter than average. They followed the wettest June on record, so it's no surprise.
"But things are looking up for September. High pressure is slowly building, looking warmer later next week."
More than a month's worth of rain fell on 8 and 9 June in north Ceredigion, causing flooding which affected more than 1,000 people.
Villages including Talybont, Dol-y-bont, Penrhyncoch and Llandre were hit, as well as areas of Aberystwyth.
A major rescue operation was launched as people were driven from their homes. They were later told it would be at least six months before they could return.
Cool summer
In July, tourism leaders warned the poor summer weather could be the final straw for some businesses in Wales.
Chris Osborne, chairman of the Wales Tourism Alliance, said businesses were suffering and casualties were likely after another summer of storms and floods.
The prolonged wet weather also had an impact on summer events across Wales, with a number of shows forced to cancel because of waterlogged fields.
North Wales Show in Caernarfon was cancelled in July, while in June Aberystwyth and Dyffryn Ogwen shows were both called off.
Provisional figures up to Wednesday show that 366.8mm of rain fell across the UK between June and August, below the 384.4mm record set in 1912.
The latest statistics follow a record wet April, and an April to June period that was also the wettest recorded in the UK.
To complete the disappointing picture, it has also been a relatively cool summer with an average temperature of 14C, some 0.4C below the long-term average.
"Unsettled weather has never been far from the UK during the past three months," said a Met Office spokesperson.
"Movements in the track of the jet stream, a narrow band of fast flowing westerly winds high in the atmosphere, have contributed to the weather we have seen.
"This summer has seen periods of heavy and prolonged rain, as well as short but exceptionally heavy thundery downpours and only brief warm sunny spells."
Persistent rain
Meanwhile, farmers have warned that the price of food may have to go up because the wet summer had devastated crops and led to an increase in the cost of producing food.
Even insects are having a hard time.
The persistent rain has forced some bee keepers to feed their swarms to keep them alive, the National Beekeeping Centre for Wales said earlier this month.
Pete Barrar, a director at the Conwy-based centre, also claimed there could be less honey on sale this autumn, with some keepers failing to harvest any.