Paralympics: Wales' success inspires next generation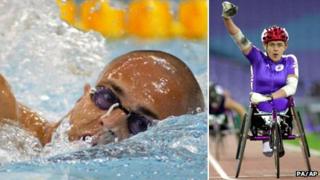 In Beijing, Wales made up 16% of Team GB and was responsible for 25% of its gold medal haul. As an even larger number is fielded for London 2012, BBC News is looking at the factors behind Welsh Paralympic success. Here we look at the role inspiration and legacy play.
The two most successful athletes of the modern Paralympic era are racer Tanni Grey-Thompson and swimmer David Roberts, with 11 golds each.
What do these track and pool sporting greats have in common? Both are Welsh, and both have proved unparallelled role models for Welsh youngsters, whether disabled or not.
Grey-Thompson and Roberts came from a long tradition of Paralympian sport in Wales, which includes John Harris (discus), wheelchair racer Chris Hallam and table tennis player Jim Munkley.
Many veteran Paralympians get involved with inspiring the younger generation on a personal level by coaching.
Professor Laura McAllister, the chair of Sport Wales and former Wales football international, said: "Tanni Grey-Thompson and David Roberts have been fantastic role models because we have been able to say, look at Tanni's record.
"They are renowned worldwide and would never dream of allowing either of those two to tell you they're not Welsh.
"Now we have got for example [table tennis player] Sara Head who will talk to the others about being a Paralympian.
"Whatever success we have got in London the kids will look at these athletes and say, why don't I have a go at that?
"The link between inspiration and participation is massive and we can't underplay that."
Confidence
Falklands veteran Simon Weston, who was badly burned when the Sir Galahad was destroyed in 1982, was a torchbearer and lit a cauldron at the Flame Festival in Cardiff to celebrate the Paralympics earlier this week.
He thinks the importance of positive role models cannot be over-emphasised and believes people in Wales are particularly supportive of their athletes.
"There seems to be a huge presence in Wales of people who care about people with impairments and they seem to recognise and respond to those people who achieve over the adversities," he told BBC Wales.
"You come from a very big village if you come from Wales. Everybody loves to see people succeed in sport.
"Tanni never stopped. As an inspiration and a role model she's somebody to be recognised for her Herculean exploits over the years."
Dr Keiran Kingston, senior lecturer in sports psychology at Cardiff Metropolitan University, said there was well-grounded theory that if somebody could relate to a person, or see that they have had the opportunity to develop coming from a similar geographical area or place like a school, club or college then it could inspire them to achieve similar things.
"If the person is a junior elite athlete then it helps that they can be insipred by someone that they can get through the same things that the role model did."
He added young athletes could also gain confidence from other people's achievements that they too would be able to perform similarly.