'Ancient Mariner' poem inspires professor's shipping research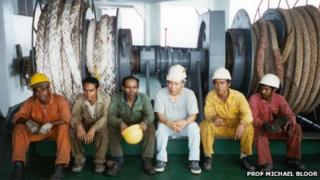 An academic has written a damning report on the shipping industry in the form of Samuel Coleridge's classic poem The Rime of the Ancient Mariner.
Professor Michael Bloor, of Cardiff University, spent 12 years, researching the conditions of maritime crews, including a month on a supertanker.
His study, called The Rime of the Globalised Mariner, is published in the academic journal Sociology.
He said he hoped the poetry would have more effect than "sociological prose".
Prof Bloor turned to Coleridge for inspiration five years ago when he began writing up his research on the working and living conditions of the world's estimated one million seafarers.
The 18th Century writer's epic poem told a surviving mariner's story of a voyage to the Antarctic and the plight of the crew. It included the famous lines: "Water, water, every where/And all the boards did shrink/Water, water, every where/Nor any drop to drink."
Prof Bloor, an academic at the university's Seafarers International Research Centre, has travelled to countries including the Philippines, Indonesia, Singapore, India and Turkey to interview people he says are "very much a forgotten group".
He said: "Initially it was a little intellectual exercise but as it progressed, I became more determined to make it a public document so people could understand the difficult conditions that seafarers labour under.
"Poor training, poor safety performance and long hours put them at serious risk at sea.
"I've been raising these issues in traditional academic articles for years and I've been frustrated by the lack of change.
"I'm hoping to have more effect by making these points in poetry rather than sociological prose."
The Rime of the Globalised Mariner: In Six Parts (with Bonus Tracks from a Chorus of Greek Shippers) charts the life of a Filipino who has to take up seafaring due to the poverty of his background.
His career in the industry begins with him being ripped off by unscrupulous trainers, officials and local politicians for a place at a training college that has no equipment and does not even take the students out to sea.
Then the mariner of the title explains to a consumer, a substitute for the wedding guest in Coleridge's original, how goods are shipped across the world by people like him for people to buy from their local mall.
The subject of flags of convenience, the lax compliance standards that can go with them, is also explored.
His last ship was registered in Mongolia, a landlocked country whose border is more than 400 miles (650km) from the sea.
Prof Bloor also interviewed inspectors and ship operators as part of his 12-year study.
In his rime, a shipping inspector joins the conversation to say that "turkeys will vote for Christmas" before the situation is improved.
Some Greek ship owners act as a chorus in the poem, claiming that they can only reward their crews with what the market will pay them.
The poem concludes with an appeal for people to use consumer power to force ship operators to improve workers' conditions.
Prof Bloor added: "Public pressure has already improved standards on shipping's environmental side, particularly in the oil industry.
"Consumers now need to pressure charterers to push ship operators for better pay, higher manning levels and shorter hours for crews."