Literacy and numeracy skills not fit for business say FSB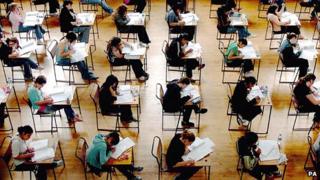 Nearly 82% of small businesses in Wales have said they do not think school leavers have adequate numeracy and literacy skills, according to a survey.
The Federation of Small Businesses (FSB) said there was a "disconnect" between what employers need and the basic skills of young job seekers.
The survey was released to coincide with teenagers' GCSE results.
The Welsh government said it wanted a qualifications system that "meets the needs of both learners and employers".
A consultation into the future of qualifications in Wales is under way.
The review board - which includes head teachers, college principals, a university vice chancellor and business people - is asking to what extent the Welsh qualifications system should diverge from the rest of the UK.
It comes as thousands of teenagers across Wales are receiving their GCSE results.
But FSB Wales said its survey found 82% of its members in Wales did not believe school leavers looking for their first job had adequate skills for employment.
Youngsters' basic numeracy and literacy was "below the expected standard," according to the survey.
This tied in with a UK-wide survey of firms which found 77% felt schools leavers had problems with awareness of business, while 56% thought their communication skills fell short.
FSB Wales said schools should have a greater emphasis on employability skills, equipping pupils with skills in CV writing, time keeping, problem solving and team working.
Welsh Policy Unit chair Janet Jones said: "Businesses are more than willing to invest time and money training staff in job-related skills, but expect them to come with at least the basics.
"Clearly, it is concerning to see that businesses have highlighted numeracy, literacy and core workplace skills, such as communication, as major problems.
"Whilst it's important to recognise that there are many high achieving young people in Wales, it's clear that somewhere along the line there is a disconnect in terms of matching up the requirements of employers and the skills of young people."
'Skills and attitudes'
FSB Wales welcomed the Welsh government's exams review but, Ms Jones said, ministers have been "lacking" when it comes to engaging with employers about possible changes.
She said: "Ultimately, Wales needs a qualifications system that's fit-for-purpose, that's easy to understand and that meets the real demand of employers in Wales."
A Welsh government spokesman said employers had welcomed the introduction of the Welsh baccalaureate qualification.
He said: "A growing number of learners are achieving this qualification which includes a work-related education module and is designed to develop the skills and attitudes that we know employers and higher education value.
"One of the main aims of the review is to consider whether we have a qualification system that assesses literacy and numeracy skills adequately and prepares young people sufficiently for entry into the workplace or for progression into the next stage of education."