School help call for children in care in Wales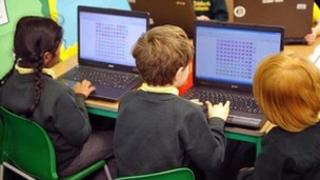 More needs to be done to help children in care reach their potential in education, a report from the Auditor General for Wales has said.
Statistics show that 29% of about 5,000 children in care in Wales do not gain any qualifications, compared to 1% of children in general.
The report found educational attainment for children in care is improving slowly but there is too much variation and inconsistent support.
The report will be considered by AMs.
Alan Morris from the Wales Audit Office said there was "quite a substantial gap" between the achievements at school of children in care and children in general.
But he added: "We think the potential of those children is exactly the same as all children."
The report said that children in care value education and some overcome upheaval and disruption, do well in school and go on to further and higher education.
However, overall educational attainment remains low.
The educational success of children in care varies across Wales and is lower in some measures than elsewhere in the UK.
It said that since 1999 the Welsh government had introduced a number of policy initiatives, guidance and specific grant funding to support the education of children and young people in care.
But while there is growing evidence of good practice, there is inconsistency between local authorities in services, arrangements and outcomes, it added.
It recommended the Welsh government work with local councils and education services to develop a clear agreement about their responsibilities and to share good practice.
It also wants to improve the way the progress of children in care is assessed at a national level.
Mr Morris, who is performance audit group director at the Wales Audit Office, said the key to success was in the level of support offered to children in care.
"Because they have a corporate parent rather than a traditional family, that is a difference and there's more that needs to be done to make sure that corporate parenting provides an effective, if slightly different parental support to really ensure that they do achieve as much as they can in education and to have the potential to achieve more in later life," he added.
Delays concern
Matthew Hunt, assistant director of Barnardo's Cymru, said that in other European countries children looked after by the state do as well at school as other children.
"There is no reason why this should not also be the case in Wales," he said.
"One of our key concerns has always been delays in the planning and decision making process for children in care.
"When a child is moved multiple times, which is always an unsettling and disorientating process, it is little wonder their education suffers."
Fostering Network Wales said the culture should be changed so that foster carers are seen as a core part of the professional team working with a looked-after child.
Director Freda Lewis said: "All those working in foster care must therefore develop a system with stability for children at its core.
'Stable home'
"We all know, and children in care will say themselves, having a stable home life is vital to achieving well at school and being successful in other aspects of life."
A Welsh government spokesman said the report would be considered by the assembly's Public Accounts Committee.
"We look forward to receiving the committee's response in due course," he added.