Tom Maynard: Bike ride reaches Oval fundraising match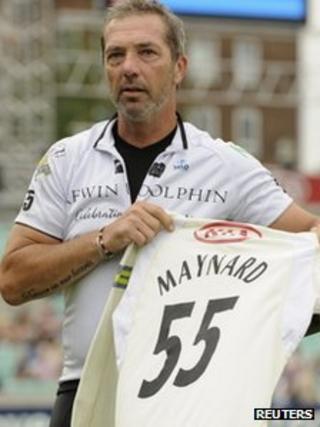 A match between cricketer Tom Maynard's team Surrey and former team-mates at Glamorgan has been played in his memory.
Earlier, cricketing figures including Andrew Flintoff and Maynard's father Matthew ended a 150-mile bike ride from Cardiff to London's Kia Oval ground.
The 40-over match was in aid of the Tom Maynard Trust.
The bike ride was the first event for the trust set up following the 23-year-old's death in June.
Maynard was found dead on a railway track after he was hit by a London Underground train in Wimbledon.
His father Matthew, the former England and Glamorgan batsman, was presented with a posthumous county cap before the match by Surrey chairman Richard Thompson.
The players all wore shirts with name and numbers in memory of the cricketer.
Glamorgan skipper Mark Wallace admitted it had been a difficult occasion.
"Today was probably the most upsetting of all the things we've done," he said.
"In the direct aftermath of Tom's death people are still in shock and you don't necessarily have that outpouring of emotion."
The cycling group set off at 07:00 BST on Monday and stayed at Newbury overnight before arriving at the Oval on Tuesday afternoon.
Mr Thompson who will be one of the four trustees, said: "Tom was an incredibly popular young man and the establishment of a trust will ensure that his name will not be forgotten.
"It is fitting that the objectives should focus on helping aspiring young cricketers and I am sure that an enormous number of people will benefit in years to come."
Tom Maynard had previously played for Glamorgan until his father left his role as the club's coach in 2010.
Earlier this week, Maynard, a former England and Glamorgan batsman, spoke for the first time since his son's death.
He told BBC Wales: "The amount of letters that we've had shows how he turned out as a really great bloke.
"There can be nothing more rewarding for a parent knowing how your lad's turned out like you hoped them to."