Q&A: Differences between GCSEs in Wales and England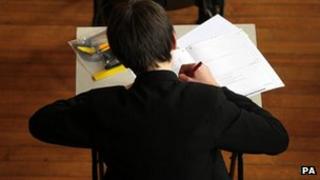 Thousands of students will be receiving their GCSE results on Thursday, but this could be one of the last times that the exam stays the same for pupils in Wales and England.
In England, Education Secretary Michael Gove has said he wants a return to the old O level style exam.
Meanwhile in Wales, a consultation into the future of its exams is under way.
BBC Wales education correspondent Nicola Smith answers some questions about the current qualification system.
Who takes GCSEs?
The GCSE (General Certificate of Secondary Education) was introduced in 1986. The first exams were taken in 1988.
They are usually taken by 15 and 16-year-olds in Wales, England and Northern Ireland as well as by students abroad. Scotland has its own qualifications systems.
What did the system look like before?
Pupils previously sat O levels, or Ordinary levels, and CSEs (Certificates of Secondary Education). O levels were introduced in 1951 and were last taken in the UK in 1987.
They were seen as the more rigorous qualification of the two. CSEs were brought in in 1965 and also came to an end in the mid 1980s.
What is being proposed in England?
Education Secretary Michael Gove is considering plans to overhaul the secondary school exam system for England. He is said to want to replace GCSEs, and return to O level style exams in traditional academic subjects such as English, maths, the humanities and science after two years of study.
Less academic children would take simpler qualifications similar to old-style CSEs. Control of education in the UK is devolved and Mr Gove's plans are for England only.
What is being proposed in Wales?
The Education Minister, Leighton Andrews, has already said that Wales will not return to an O level style system.
But a review commissioned by the Welsh government is asking whether major changes should be made to the qualifications system for 14-19 year olds here.
It is consulting on whether completely new qualifications for 14 to 16-year-olds should replace GCSEs or whether Wales should broadly follow what happens in England.
The review asks to what extent the Welsh qualifications system should diverge from the rest of the UK. Its findings will be published by the end of the year.
Where do England and Wales already differ?
From September, pupils starting GCSEs in England will be examined at the end of the two year course. It's called linear assessment, and replaces modular exams.
But in Wales, schools will be able to choose between the two styles of assessment. Welsh teenagers can also take the Welsh Baccalaureate alongside their GCSEs, A levels, or other vocational qualifications.
They learn key skills through things like community projects and individual investigations.
The idea is that it offers something broader than just an academic qualification. If they pass, it is a qualification in its own right.
GCSE pupils in England can take the English Baccalaureate, although it is not a separate qualification. It is a performance measure which recognises where pupils have secured a C grade or better across a core of academic subjects - English, mathematics, history or geography, the sciences and a language.