Welsh Baccalaureate: Pupil's concern over qualification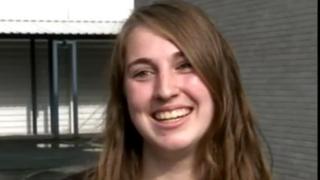 An A-level student who plans to study medicine has spoken of her concerns about the Welsh Baccalaureate.
Rhianna Davies gained two A*s and two As at Ysgol Penweddig, Aberystwyth, and will study at Birmingham University.
But only one university to which she applied recognised the Welsh Bacc, while her father claimed it was holding back brighter pupils.
The education minister said the qualification was valued by higher education and employers.
Miss Davies spoke out as A-level results were published, showing the number of Welsh pupils receiving the highest A-level grades has fallen for a third year, although those who passed has risen slightly.
This year, a total of 8,259 candidates were awarded the Welsh Baccalaureate Advanced Diploma, compared with 6,948 in 2011, representing an increase of almost 20% over the number successful last year.
The qualification - now in its eighth year - was awarded to pupils from 154 schools and colleges in Wales and is the equivalent to an A grade at A-level.
In many schools it has become a compulsory part of the curriculum, with pupils taking it in addition to A-levels.
It is aimed at giving teenagers a broader post-16 education than more specialist A-level subjects.
As well as a core of subjects, such as maths and languages, students also get a chance to do work experience and voluntary placements.
But Miss Davies said it had not helped her get into university and her father, David Davies, said he believed it did not challenge some pupils.
"My concerns about the Welsh Bacc are that it's compulsory in many schools and it isn't challenging enough for those that are the high achievers," said Mr Davies, who was in academia for 20 years and now has a small business that also works within that field.
"The high achievers generally know what they want to do. They're self motivated.
"I think it's the time where they have full choice about what they want to do in the future."
He went on: "If Wales wants to be up there contributing to the elite of the UK and Europe and further afield, making it compulsory for all students is a mistake."
'Prestigious universities'
Education Minister Leighton Andrews insisted that the Welsh Baccalaureate was an important qualification.
"We know that there are universities who accept the Welsh Bacc for medicine and dentistry and courses like that," he said.
"Some of the most prestigious universities accept the Welsh Bacc. We know that and we have got academic experts saying and we have head teachers saying that they have got pupils who have gained entry to university because they have got the Welsh Bacc.
"So I think the Welsh Bacc is an important qualification. It's a valuable qualification and it's valued by higher education and employers."